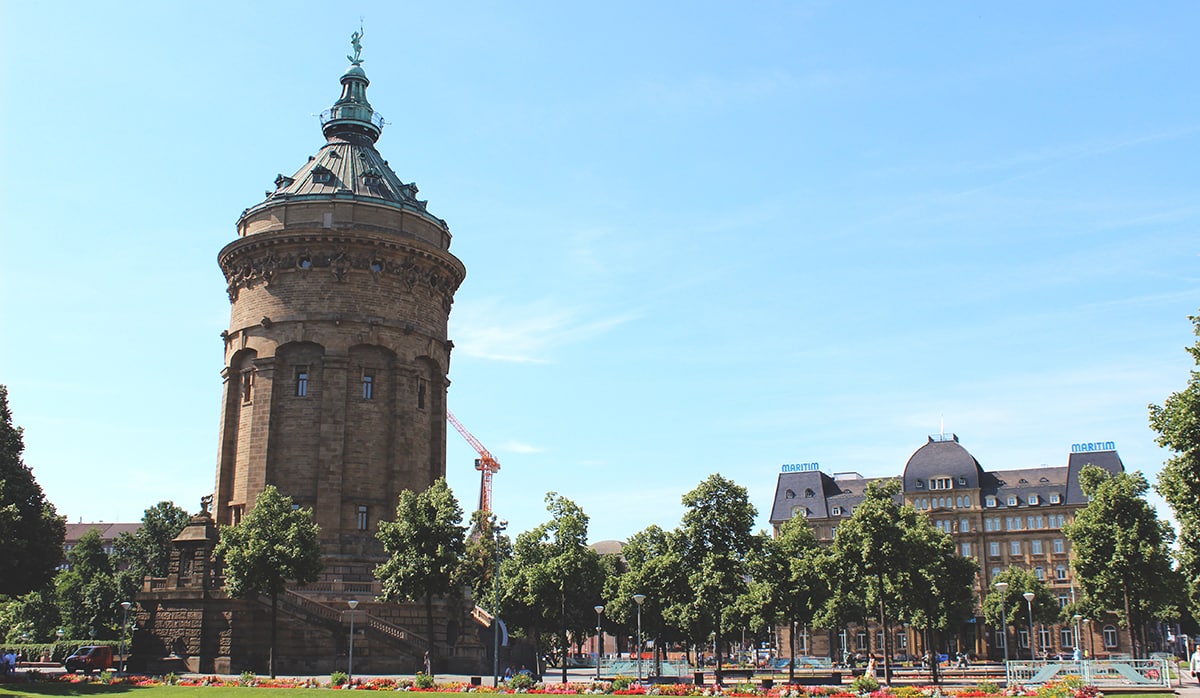 Gay contacts in Mannheim: These are the top addresses in the square city to meet gays
The city of Mannheim, situated on the Rhine and Neckar rivers, is the third largest city in the south-western state of Baden-Württemberg after Stuttgart and Karlsruhe, with a population of around 300,000. The city is a former residence of the Electoral Palatinate and is also known for one of the largest palace complexes in the world - The Baroque Palace.
Gay dating in Mannheim
Why is Mannheim so exciting for gays?
As Mannheim is one of the largest cities in the state of Baden-Württemberg is, gay people manage to make the best contacts in this city. In addition, strategies for social urban development are constantly being developed in Mannheim in order to reduce discrimination against LGBT people. This also promotes equal opportunities for gays, lesbians and transgender people and includes them more in society.
Are you wondering where you can meet other gay men in Mannheim? Then you've come to the right place! On our site you will not only find the possibility to contact other gays directly, but also a lot of information about popular gay bars, saunas or places to cruise. In the following, we have summarised all the information about the different possibilities to get to know each other in Mannheim. Good luck with your search!
Gay bars in Mannheim
Mannheim Gay Meeting No. 1:
Café Klatsch
Address: Hebelstraße 3 in the Oststadt district
Café Klatsch welcomes you to the border of the squares. Great events await you here, where you will never be bored. What's more, you'll meet super nice staff here who will always accommodate your wishes. Home-baked cakes and coffee are also served every day from 4 pm! The party atmosphere is provided by Dolo, who has been working here for several years. At Café Klatsch you can count on fair prices, attentive staff and a great atmosphere. Disappointment is out of the question here, because there's always something going on!
Mannheim Gay Meeting No. 2:
Jails
Address: Angelstraße 33 in the Neckarau district
The hip scene institute Jails offers you a variety of playgrounds, because there is something for everyone here. With FetishSM themed parties and lots of Leather you can satisfy all your needs and those of the other gay boys too. You can realise your craziest fantasies at the Jails and you'll be sure to leave the bar after a fun day. Since the Jails pays attention to cleanliness and hygiene, they also provide you with a hygienic shower so that you can also take care of your health and freshen up.
The Jail regularly hosts a variety of events with something for every fetish. Special events include the All-Fetish, Blank and Blank Special. Especially popular here is the "After Work Fun" event where you can let out all your work stress, anger with colleagues and boss during sex. Free condoms and plenty of lube are available at the bar!
The jails pay a lot of attention to respectful interaction with each other, which is why some rules have been set up here. These include the fact that tolerance and acceptance are of the highest priority and that no picture or sound recordings may be made, as this would violate the privacy of others and you could also get into trouble. In addition, the Jails reserves the right to withdraw image recording devices and other electronic recording devices if they are used. If the rules are not followed at Jails, there can be major consequences, including being reported to the police and banned from the premises immediately.
Mannheim Gay Meeting No. 3:
Solo Mannheim
Address: U4 15-16 in the Quadrate district
Café Solo, located on the Ring in the Quadrate district, welcomes all hot gay boys with its super design and great theme evenings. It also offers everyone a cosy meeting place, which is why a date or first meeting in this pub will be very worthwhile. In summer, there is a lot going on on the green terrace, which is a great opportunity to get to know gays. The host Alejandro goes about his work with a lot of feeling and makes sure that his guests leave the bar satisfied. The price-performance ratio of the bar is Topbecause Alejandro wants all his guests to have a great evening with him without worrying about the money.
The hottest meeting places: Gay saunas in Mannheim
Everywhere and in almost every bigger city there are several saunas for gays. Unfortunately, there is only one sauna for gay boys in the big city of Mannheim. Nevertheless, we have compiled the most important information about gay saunas in Mannheim for you so that you don't have to spend a long time searching and are led directly to your destination.
The only gay sauna in Mannheim:
Galileo City Sauna
Address: O7 20 in the Quadrate district
In the Finnish gay sauna "Galileo City" you can definitely expect one thing - top service! The service staff welcome you as soon as you enter and make you feel at ease right from the entrance. Boredom while sweating? You won't get bored here, because unlike other saunas, the Finnish sauna is generously glazed. So you can always see what's going on outside the sauna. You have the opportunity to see who is taking a shower, whether someone is coming out of the steam bath or whether a nice gay guy has just come in. Boy Direction Darkroom scampered.
The special thing about the Galileo City Sauna is the choice of different activities, because in addition to the sauna there is also a cinema with excellent technology and gay films. So you have the possibility to experience a completely undisturbed movie fun where you can pamper yourself (or let yourself be pampered).
Furthermore, Galileo City offers cruising opportunities on two different floors. So that there is something for every taste, the floors are each designed differently. While one floor is very eye-catching with its bright colours, the other is more cool and casual. If you've met someone, the illuminated resting cabins are the ideal way to relieve your pressure.
Of course, the way to the cinema is not made easy for you, because on the way to the cinema you walk past the darkroom. In the darkroom, hot gay boys await you, just waiting to fulfil all your needs. After all, there has to be some excitement before you get to the movies.
Relaxing and restorative massages from masseur Dieter are a must at the Galileo City Sauna. Dieter, who has been working at Galileo City for several years and is also state-certified, offers all gay boys extremely soothing massages. His favourite mix of massages will not only take away the stress of the whole day, but also provide physical relaxation for the days to come. If you would also like to be pampered by Dieter and his non-European massage techniques, you can always drop by Galileo City on Mondays and Wednesdays between 4pm and 00:30am. You will certainly be able to make your first gay contacts during the massage, because at Dieter's you will of course also find many other gays who want to be massaged.
Refreshment is also provided in the Galileo City Sauna. In addition to a great atmosphere, the bar offers refreshing drinks such as soft drinks, sparkling wine or energy drinks, as well as delicious coffee. If you are a smoker, we have of course also thought of you, because there is a pleasant smokers' lounge in the outdoor area of the sauna, which you can use if you need a little smoke break.
If you like to lie under the sun in summer, the terrace offered by the sauna is not a bad choice for you, because you can also meet some hot gay boys on the terrace. You can use the free Wi-Fi in all areas of the sauna and there is also a PC in the restaurant area that you can use for surfing or writing emails.
As Galileo City Sauna is very concerned about the hygiene of its guests, there is also an intimate toilet (which is not boringly designed). You can also bring your own shower rod or buy one on site for a small price.

He is looking for him: Cruising in Mannheim
In Mannheim you can Gay Cruising and the gay sex that comes with it. Below we show you the best gay cruising places where you will have unforgettable and anonymous fun with gays.
Mannheim Cruising Place No. 1:
A5 Fliegwiese car park
The Fliegwiese motorway car park is very popular for gay cruising throughout the day, which is why it is very likely that you will find and establish the best contact with gays here. The motorway car park on the A5 is very large and accordingly there are several parking spaces for enough cars and even trucks. At this cruising area you can look forward to very hot gay sex and hot gay boys.
Due to the connection to the A5, there are usually gays from other cities like Bensheim or Weinheim with whom you can have fun. There are also two parking spaces because of the two directions of travel, which makes cruising all the better because you have more gays and can also change the parking space from time to time. Since this cruising place is very popular, you can quickly and easily find a gay boy for sex here.
The popular Mannheim cruising place is not only frequented by gays, but also by trannies, bisexuals or heterosexuals, among others.
Mannheim Cruising Place No. 2:
Flap on the Rhine Promenade
A popular place to cruise is the Flap on the Rhine promenade, because here you can have fun not only during the day, but also at night. Many sexy gay boys are waiting for you in the toilets and are eager to meet you and have sex with you. If you're into older men, then the Klappe on the Rhine Promenade is just right for you. Because in addition to the younger men, you will also find older and stubborn men who want to be spoiled by you (or by whom you want to be spoiled).
Wondering when you'll find the different age groups there? We have the answer for you, of course! In the morning, you're more likely to meet younger gay boys who love morning sex, and during the day you'll find come older men come here to have some fun. If you enjoy your sex more in the evening or at night, you can of course also come here, because the younger gays are also here at night, waiting for a gay boy who is as hot for sex as you are!
Mannheim Cruising Place No. 3:
Car park on the A6 motorway near Mannheim Sandhofen
If you want to relieve some pressure, you'll find plenty of opportunities to do so in the car park on the A6 motorway. Here you will find many other hot gay boys on the hunt or looking for horny sex. The car park is small, but still very nice! Behind the car park is a forest, where most gays stay and let themselves be satisfied, play games or just cruise around to watch hot gays. Not only gays, but also heterosexuals or bisexuals who want to release their pressure meet here for non-committal fun.
If you want to go there at a certain time and meet several gay boys, we recommend that you go there in the evening, because at that time you will find many other gay cruising fans. Among other things, the weekend is also highly recommended for cruising at the car park on the A6 motorway near Mannheim Sandhofen.
Mannheim Cruising Place No. 4:
Mannheim
Oktoberfest at the car park
As you've probably already noticed, the car parks in Mannheim are the absolute favourite cruising spot. Another often-frequented cruising area in the square city is the popular car park of the Mannheim Oktoberfest, which is located directly on the Theodor-Hass-Anlage. When the Oktoberfest takes place, you see fewer gay boys here, but as soon as the Wiesn time is over, all the hot gays go to the car park again and have hot gay car park sex or cruise around and look out for a seductive gay.
As with the car park on the A6 motorway near Mannheim Sandhofen, there are not only gays here, but you will certainly also find several bisexuals, heterosexuals and trannies in the car park.
Mannheim Cruising Place No. 5:
Car park on the BAB 6 near Hockenheim
Another popular car park is the one on the BAB 6 near Hockenheim. Here you will find two large rest areas in both directions of travel on the BAB 6. Are you wondering what distinguishes this car park from the others? Unlike the previous car parks, the BAB 6 already has toilets and, among other things, seating. In the direction of Mannheim, the car park is partly unlit, which many of the gays take advantage of, as they can have undisturbed gay sex and satisfy a hot gay boy.
Not only younger but also older men hang out here on the BAB 6. Most of the time, the gay boys hang out here until 1 a.m. because there is always a lot going on. For the weekend we can guarantee that you will have the most fun here, because all the hot gay boys are here longer and spoil each other.
Gay shops and gay cinema in Mannheim
You don't want to have boring sex anymore and finally want to bring some life into your gay sex life? Are you looking for sex toys that you and your partner can use to freshen up your lovemaking or for cruising? Then we have listed the hottest gay shops for you below that we liked the most.
Mannheim Gayshop & Gaykino Place No. 1:
Strawberry Mouth Erotic Store Mannheim
Address: Kunststraße 9-12 in the Quadrate district
If you are the type for exciting and fun sex toys, you will feel very comfortable at the Erdbeermund Eroticstore Mannheim. Here you will find sex toys in different materials, colours and types. From vibrators to electric sex toys and penis pumps, Erdbeermund Eroticstore offers everything. Of course, you'll also find classic lube, condoms and products for your intimate hygiene.
In addition, the Erdbeermund Eroticstore has a cinema, which is not only open during the week, but also on Saturdays and Sundays. The couples' evenings in the cinema always take place on the first Saturday of the month from 20:00. On this evening there is a great chance that you can meet many other gay boys.
Mannheim Gayshop & Gaykino Platz Nr. 2:
Spicy Erotic Store
Address: L14 19 in the district of Quadrate
The Pikante Erotik Store is only 250m away from Mannheim's main railway station. It offers you an extremely erotic experience on site, because you'll find what you're looking for here if you're looking for unique sex toys. In addition, the polite staff will help you if you need a little help or advice about a product. The cleanliness and modern equipment in the Pikante Erotic Store has also been well thought out.
Here, too, the store offers a cinema for gays, but what makes it special are the standing cabins, which have different heights. In addition, the Pikante Erotik Store also offers lockable booths so that all gays can have their privacy and undisturbed gay sex. There is something for every gay boy, because you will find everything from video booths to a cruising cinema. The cruising cinema has, among other things, several glory holes for your enjoyment, a Sling and two relax zones. Even the price-performance ratio is top!
If you are a smoker, you cannot smoke in the cinema, but the cinema has a solution for this too. You can simply buy a day ticket that allows you to go in and out without paying again. However, you need a customer card, which you have to buy in advance at the box office for a small surcharge, in order to be able to buy a day ticket later. Once you have bought a loyalty card, you can load and use it as often as you like, because after that it is your property.
Mannheim Gayshop & Gaykino Platz Nr. 3:
Studio 7
Address: Heinrich-Lanz-Straße 32 in the Oststadt district
The Sex Shop Studio 7 offers its customers an unforgettable shopping experience and unforgettable days, because in addition to a sex shop, it also offers you a cinema with several glory holes, top value for money and a friendly reception. The word "cleanliness" is very important to Studio 7, because here they pay attention to hygiene and the general well-being of the customers. A smoking area for all the smokers and a bar for all those who like to freshen up with a beer are of course available.
Due to the heat caused by several gay boys, it can sometimes get too warm, which visitors to Studio 7 might find annoying. But you don't have to worry about that either, because the gay cinema has already taken care of this problem by installing air conditioning in the studio. Now you can enjoy sex with hot gays while not having to worry about the heat in the room.
Christopher Street Day in Mannheim
Christopher Street Day (CSD), which was founded in the United States, is also celebrated here in Germany in a colourful way. Here you see a demonstration filled with homosexuals, bisexuals, transgenders and co. walking through a city. During this demonstration, which is also used as a parade, both urban and traveled supporters of various scenes celebrate, dance, drink and sing in the streets. Around the world, on this particular day, several parades are held in honour of gay, lesbians, bisexuals and transgenders. The biggest parades in Germany take place in Berlin and Cologne. There is not a single moment when you don't see the famous rainbow flag.
But not only the people of Cologne or Berlin celebrate Christopher Street Day on this day, but also the people of Mannheim. With around 100,000 people, the streets were more than full at the CSD Rhein Neckar in 2019. With lots of naked skin, colourful feather wigs, high heels and leather suits, the gays, lesbians, transgender people and Bisexual from Mannheim provided an outstandingly good atmosphere. Not only Mannheimers could be seen at Christopher Street Day, but also international guests such as English and Polish people.
Numerous people danced through the squares at the CSD, calling for more open-mindedness and rights of the LGBT community demonstrated. People with posters, loud music, cars and bicycles paraded through the streets of Mannheim's city centre.
---