Gay contacts in Nuremberg: These are the top addresses for meeting gay men
Nuremberg is the second largest city in Bavaria with over half a million inhabitants and an area of 186.38 km². The city shows significant growth, making it one of the 15 largest cities in the whole of Germany.
The medieval old town, including the mighty Kaiserburg, is one of the most important sights in Bavaria. Nuremberg boasts countless tourist attractions, artists and famous faces.
The top locations for our gay community
Why is Nuremberg so exciting for gays?
In addition to shopping streets, historical museums and a range of other cultural institutions, Nuremberg also offers us gays an abundant selection of highlights and activities. The once so historic city transforms into a gay-friendly scenario full of fun, excitement and hot flirting as the evening hours begin.
You are planning a trip to Nuremberg and are not yet informed enough about where you can meet the hottest gay boys or you would prefer to chat with boys in your area in our gay chat. flirt? Then GayKontakte.com is the right place for you. Our gay community offers a hot flirt chat for everyone. In addition, we have compiled the most popular gay bars, clubs, cruising areas and sporting activities in Nuremberg and the surrounding area for you on this page. Long story short: These are the hotspots in Nuremberg where you absolutely have to be.
Gay bars in Nuremberg? There are a few
The place your mum always warned you about:
Bar59
Address: Johannesgasse 59
The small scene bar in the beautiful old town of Nuremberg is suitable for every age group and invites the tolerant party people in Nuremberg to celebrate at Bar59. Rules or music styles are undesirable here, because from Schlager to Black, Pop or the Charts, this bar offers something for everyone depending on their party mood. The drink specials and the themes for the theme parties also ensure a wide range of variations, so that even a daily visit to this bar is never boring.
Enjoy the evening at:
Bert's
Address: Wiesenstraße 85
Bar Bert's describes itself as a cosy bar with an idyllic atmosphere and a wide range of offers. Nevertheless, theme parties take place at events such as Mardi Gras or New Year's Eve, which are also well attended. Atmosphere, plenty of beer and cool costumes are guaranteed in this pub, both for dates and for new acquaintances.
Enjoy the evening at:
Savoy Beer Bar
Address: Bogenstraße 45
The Schatzgrube Bier-Bar Savoy is located directly behind Nuremberg's main railway station. In addition to the appealing design of the bar, the first-class music and the excellent cocktails, the handsome gay landlord behind the bar in particular ensures that there are plenty of customers. During his shift, he also likes to have fun with the clientele and ensures a relaxed atmosphere and a great evening. But the host is not the only hot guy you can meet in the bar. Plenty of customers from our gay community meet regularly in the Savoy beer bar to make new acquaintances and have a fun evening.
Coffee, cake and much more:
Café Bar Cartoon
Address: An der Sparkasse 6
The Café Bar Cartoon behind the Sparkasse bank in Nuremberg's old town, not far from the Lorenzkirche, had been planned as an official gay day café since 1989. Already the first Scene-All the theme parties in Nuremberg have taken place in this restaurant. Regulars of the restaurant have certainly noticed that the bakery skills of the owner have also been pleasing customers for a while. Every Friday, a wide variety of delicacies are baked for the weekend. Both in the sunny mornings and in the evenings, you are welcome at Café Bar Cartoon and can look forward to freshly baked cakes and open customers.
The hit in Nuremberg's city centre:
La Bas Party Bar
Address: Hallplatz 31
The long-established gay bar in Nuremberg's city centre convinces among other things with good prices and delicious dishes from Franconian cuisine. But it is above all the friendly service and the open-minded guests who greet you warmly in the pub that distinguish the bar. Sexy single boys also frequent the place and during the summer season La Bas Bar opens its doors to the cosy beer garden until midnight.
The palace among the gay venues:
Schaumburg Palace
Address: Kernstraße 46
For over 30 years now, Palais Schaumburg has distinguished itself as one of the most reliable pubs, including a beer garden, in Nuremberg's fast-moving gastronomic economy. There are new offerings on the menu every day and the range of vegetarian dishes leaves nothing to be desired. You have a date with a Boy from our gay community and are desperate to decide where to go? The Palais Schaumburg is ideal for an idyllic first meeting.
Eating in the dark?
Restaurant Tarragon
Address: Jakobstraße 19
Here, good Mediterranean cuisine, unusual ideas, openness and social issues come together. In addition to the inexpensive delicacies, the Estragon restaurant also stands for their gastronomy project. The restaurant is a non-profit limited company and consists of a team of severely disabled people who are offered a chance to work here. Great value is placed on partnership and tolerance towards everyone, which is exactly why the Tarragon is ideal for a gay date. The menu is changed monthly and thus ensures sufficient variety. The Estragon restaurant is a must-have in Nuremberg, especially because of their unusual "No-Light-Dinner". Here you experience a three-and-a-half hour dinner including an aperitif and a 4-course menu from 6 pm on special dates. The special feature of this event is the illumination of the restaurant. For dinner in total darkness, your remaining four senses are stimulated with an extravagant menu and relaxing music. This is definitely an experience not to be missed.

Experience your first date in the
Great Love Gay Clubbing
Address: Engelhardstraße 33
Every first Saturday of the month, the "Große Liebe" event for all gays and lesbians has been taking place since November 2013. Whether you want to meet your friends for a beer, meet new hot gays or just want to party the whole night away, all your needs are met here. The party goes on until five o'clock in the morning in Haus Drei&Dreißig. Techno is played on the first floor and everything revolves around queer sound on the second floor.
An unforgettable evening at the
Mach1
Address: Kaiserstrasse 1-9
For over 25 years, the Mach1 has become an international and also in the gay scene a Top-club in Nuremberg. Big and well-known DJs appear here at regular intervals and make the dance floor shake. The club convinces with its modern interior and a high number of visitors. Although Mach1 is not a recognised gay club, there are still plenty of gays from Nuremberg in this club, so you are guaranteed to have the time of your life with a sexy boy.
Fancy some cabin sex?
New Man
Address: Luitpoldstraße 11
For an easy 10 euros, there are no limits to you and your fantasy at Sexkino New Man. Are you in the mood for dirty sex and looking for a sexy guy? Then you'll definitely find what you're looking for here. In addition, the New Man in Nuremberg offers you smaller cabins for pampering. You can decide in this cinema hall whether you want to share a cabin with just one person or whether you want to join another group and start a round together. All ages and gay types are represented at the New Man, so you'll find one or two guys to enjoy yourself with.
The sauna for HIM:
Achilleus Men's Spa & Gay Sauna
Address: Färberstraße 21a
The Achilleus Men's Spa offers the gay community an XXL steam bath, Finnish sauna with relaxing aroma fragrances, a whirlpool and a spacious shower area with rain showers. The roof terrace is ideal for small smoking breaks or cooling down. Great importance is attached to hygiene and modernity here, and customer satisfaction leaves nothing to be desired. At the bar you will find a varied range of food and drinks. In the WC rooms of the spa area, you can also have a hot encounter or two, as there is no lack of space. You can also let yourself be pampered by the beautiful masseurs and relax your body, mind and soul.
The sauna for HIM:
ChirinGay City Sauna
Address: Comeniusstraße 10
Just like Achilleus Men's Spa & Gay Sauna, ChirinGay City Sauna also offers steam baths, Finnish sauna and more. However, if you're looking for sex and fun, then you've come to the right place. Once you've hooked up with a hot gay boy, you'll be offered a private luxury booth at ChirinGay where you can really let loose behind closed doors. For safe sex, simply ask at the front desk for condoms, which will be handed out to you free of charge. In addition to the luxury cabins, the ChirinGay City sauna also has an intimate shower where you can take a closer look at the hot guys' tits and a video room where you can watch porn together. Between the cabins, you can be seduced by an anonymous gay boy through a glory hole. As you can see, in this Gaysauna There are no limits to the fun you can have in your life.
Groups and clubs for gays in Nuremberg
Advice, information and support:
Fliederlich e.V. Queer Centre Nuremberg
Address: Sandstraße 1
The association was founded in 1978 and is one of the oldest groups for gays and lesbians in Germany. It took place after the Homosexuelle Aktion Nürnberg (HAN) broke up due to a number of HAN activists.
At Fliederlich e.V. you can get information about gay life in the Nuremberg region. In addition, counselling appointments are offered to support and advise gays and lesbians in difficult situations such as coming out, civil partnerships or problems at work. Among other things, Fliederlich e.V. has groups such as the "Youth Initiative", which is aimed at queer young people aged 14 to 27, or the so-called "Positive Meeting", where HIV-affected people and partners are offered help.
These and many other groups give you the chance to enjoy your gay life to the fullest and feel part of a broad group. In addition, you can meet new people who are struggling with the same issues and make new friends or maybe even relationships.
Against discrimination in the workplace:
ÖTV - Lesbian and Gay Working Group
PO Box: 9209 ℅ Thomas Huber
The ÖTV working group demands equal treatment under collective agreements for gay or lesbian partnerships. These relate to points such as special and parental leave without homosexual marriage. In addition, the service of education in society and with employers is offered to facilitate the path to coming out for those affected. ÖTV also offers help, advice and support in cases of bullying at the workplace, so that nothing stands in the way of your coming out to your colleagues.
There is not yet an official location in Nuremberg, but ÖTV offers a post office box where all requests can be submitted.
Gay and Lesbian Sports Club:
Queer Culture Nürnberg e.V.
PO Box: 810274
Queer Culture Nürnberg e.V. is a non-profit cultural association that was founded in November 2009 and has set itself the task of supporting and promoting the queer community in Nuremberg. The means to this end are public performances, lectures, exhibitions and publications of scientific studies on the topic of "queer culture".Gay-Lesbian Art and Culture", which brings queer cultural life to the public. However, the cultural association does not only want to address the gay and lesbian society. The general public in particular should be informed about colourful queer life through the association and thus develop more understanding for this lifestyle. Its activities create a forum for the mutual exchange of experiences in which a broad public can participate. No political conviction, sexual orientation or origin plays a role here, because everyone who wants to learn is welcome in Queer Culture Nürnberg e.V..
You think you can convince people of who you are and what you stand for with your lifestyle or your way of thinking or you are ready to get to know new things about the colourful, crazy and queer way of life of others? Then this is the right place for you.
Gay and Lesbian Sports Club:
Rosa Panther Nürnberg e.V.
PO Box: 810274
The gay and lesbian sports club was founded in 1991 and emerged from an association of gay amateur swimmers. The aim of the group was to strengthen the community among homosexual athletes in Nuremberg.
At Pink Panther Nürnberg e.V. is a club that likes to call itself a sporting group of gays and lesbians who meet regularly for joint sports sessions. The range of sports activities is broad The range of sports on offer is wide, from badminton, football, bowling, swimming, dancing and tennis to volleyball and yoga, with plenty of choice for every member. Training times start at 7pm, so you can really work out after work. You can also take part in tournaments at this club and prove your talent.
Your interest has been aroused and you would like to try out the wide range of sports activities with other same-sex oriented athletes? No problem, because to get to know the club, you will be given the opportunity to take part in three free trial training sessions.
While doing something good for your body, this sports group also gives you the opportunity to meet new gay boys and make new connections.
The gay regulars' table in Nuremberg and Erlangen by students for students:
The queer thinkers
The Queer Thinkers are a group of young gays, lesbians and other types of queer people in the Erlangen-Nuremberg area who meet regularly in pubs and exchange ideas with like-minded people. There is no fixed age limit here, but a lot of emphasis is placed on choosing youth-friendly venues in order to please every member. The queer thinkers arrange regular pub or club visits, where members have fun and often meet new members. A number of other activities such as bowling, climbing park or laser tag are also offered.
A relaxed atmosphere, new friendships and new experiences await you in the Queer Thinkers Group.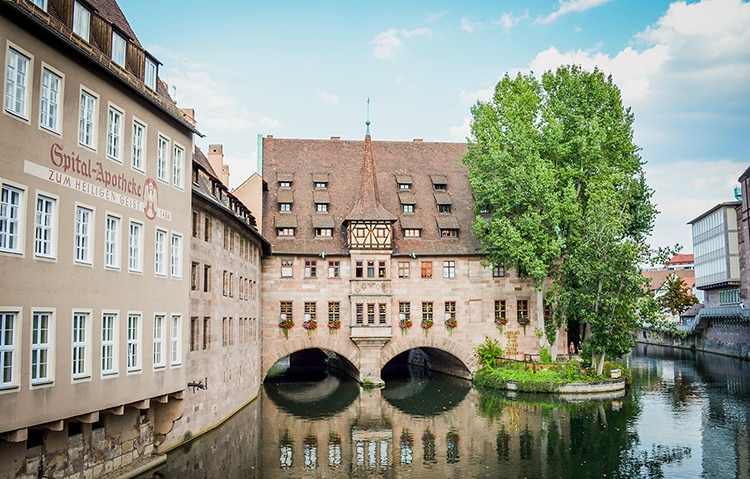 The hottest cruising areas in Nuremberg
Dredging in the quarry pond:
Birch Lake
The Birkensee is located about 20 km east of Nuremberg between Diepersdorf and Schwaig and is especially known in the gay scene for flirting behind the bushes and car parks. On weekends in the summertime you will get your money's worth here after your visit to the baths. come.
Gay Cruising am:
Port car park Nuremberg South
Nuremberg's southern harbour car park is a spacious park area where people like to cruise, especially in the evenings. Particularly popular spots here are the bushes, at the beginning of the forest. The potential to pick up a hot gay boy at this location is particularly high on warm evenings.
Fun guaranteed:
White Tower Public Toilet
Compared to the other locations, this cruising area is more centrally located in the city centre and can therefore also be easily reached on foot. Since these are enclosed spaces and not absolute Outdoor-This area offers sex all year round at any time of the year.
Hot summer evenings:
City Park
Especially at the playground and the nearby wall of the Nuremberg city park, this area is worth cruising. However, you will have more success at higher temperatures in the late evening hours. The age range in the city park is from the early 20s to over 60, so you can find the right partner for all preferences.
A different kind of underground station:
Röthenbach underground toilet
You'll definitely get your money's worth in the toilets in the vestibule or the cabins at the back. Especially in the afternoon, many scenarios take place in the toilets and cabins of the Röthenbach underground station in the crowded station.
Hot bridge experiences:
Toilet at the Theodor Heuss Bridge
At the Theodor Heuss Bridge, on the side of the DJK Bayern Clubhouse, there is a quiet place for cruising. Nevertheless, the location is easy to reach by public transport, by bike or on foot. At the benches in front of the toilets, you can easily observe the passers-by and see if your guy is also there.
Nuremberg and the gay scene
Christopher Street Day in Nuremberg
The Stonewall Riot of 1969 made waves internationally over the last 50 years and also inspired the whole queer scene in German cities. Here in Germany, three years after the Stonewall Riot, women and men of same-sex orientation dared to demonstrate in the streets. Over the years, Christopher Street Day has developed from a political demonstration into a recognised event that, in addition to spreading political messages, also provides fun and unforgettable experiences.
Colourful, shrill, dressed up and cheerful - this is how Christopher Street Day is celebrated in Nuremberg. This year, the well-known event is taking place in Nuremberg for the 23rd time in a row. It involves a demonstration, a corn market and a closing party. Every year, the CSD is accompanied by a varied and colourful supporting programme. The large CSD demonstration starts at Berliner Platz and follows a route to Jakobsplatz. Once there, the party starts outside with a colourful supporting programme, a number of information stands and familiar faces from the gay scene. The programme ends at 10 p.m. and for all night owls there is the official, big CSD closing party from 11 p.m. onwards.
Mister Gay Germany 2020: Is it someone from Nuremberg?
Every year, the next representative of the gay community is elected in Germany. This year, Pascal Oswald from Nuremberg came in a proud fourth. However, anyone who thinks that the title is just about the classic awarding of prizes to the hottest contestant is mistaken. The title "Mister Gay Germany" stands for the "hero of the scene". It takes into account how the contestant stands up for the gay community and whether he or she is able to give courage to insecure gay boys by setting an example.
With Pascal Oswald's voluntary commitment to Aids-The chances for him were therefore very good in Nuremberg. Pascal's aim in taking part in the competition was to increase acceptance of him and the gay scene in general through his growing popularity. He himself reports little experience with homophobia in his neighbourhood, but he is aware of how tolerance towards gays is not as advanced in other cities as it is in Nuremberg. In his opinion, Nuremberg also offers a wide range of activities for homosexuals, from bars to sports clubs.
The 4th placed Mister Gay Germany 2020 has big plans for 2020. Because, that the big city Erlangen does not offer any events and activities for gays, Pascal would like to change this as soon as possible. The plans for a future Christopher Street Day next year are in place and the gay community of the city of Erlangen is also behind him and supports his project and his goals.
---