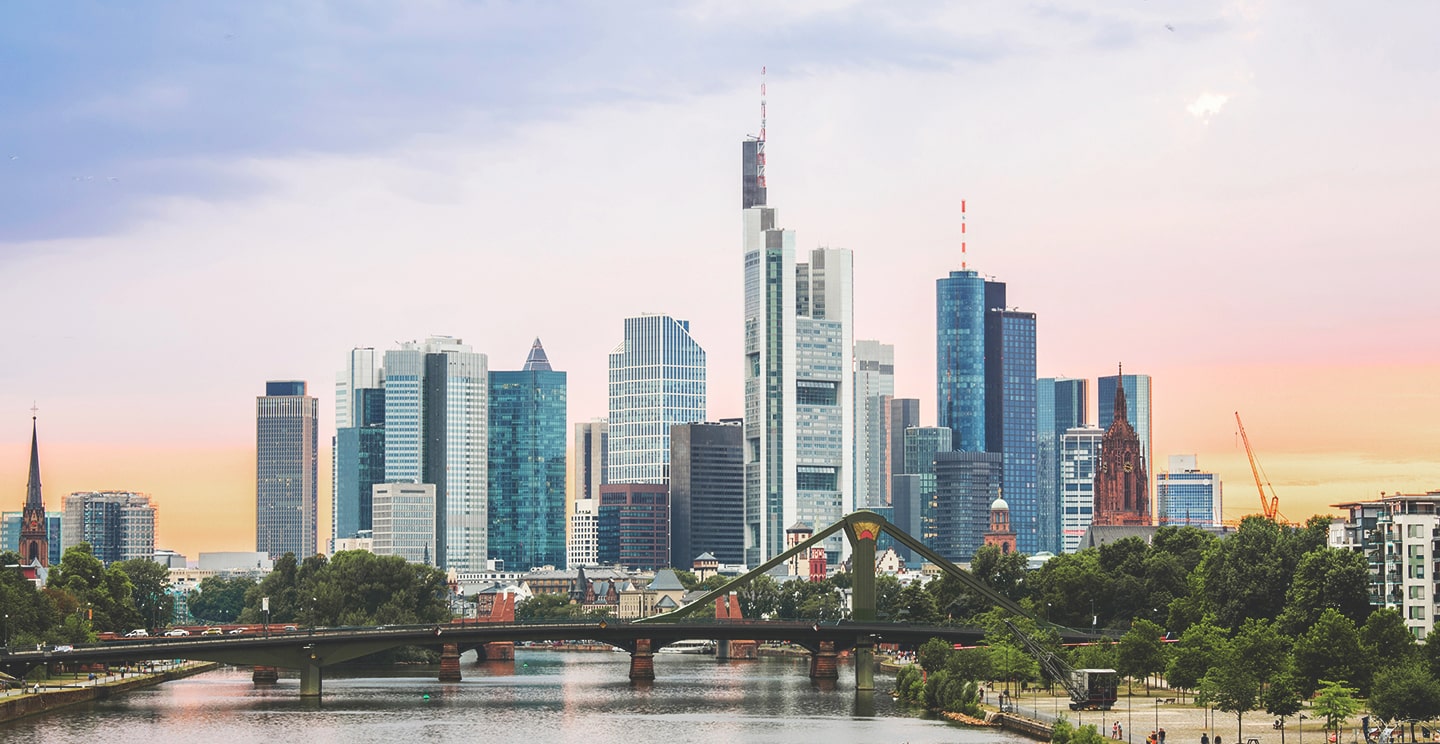 Gay contacts in Frankfurt am Main: These are the top addresses in the state capital for meeting gays
The financial heart of Germany - doesn't that make you think of Frankfurt am Main? The hometown of the famous poet Johann Wolfgang von Goethe is now Germany's fifth-largest city with a population of around 750,000. It's not for nothing that the city is called "Mainhatten", because here you will find several skyscrapers that are very similar to those in New York. Frankfurt offers you not only grand skyscrapers and a breathtaking skyline, but also an exciting nightlife.
Meeting gay men in Frankfurt am Main made easy
The largest city in the state of Hesse offers you numerous clubs, bars, cruising areas or gay cinemas and events for gays in the gay scene. You are probably wondering where to start your search for a gay contact. We make it easy for you! The easiest place to start is of course our Gay chat. Here you can quickly and easily meet real gay boys from Frankfurt and the surrounding area and quickly get a hot date. Try out our gay chat now!

But if, contrary to expectations, you don't find what you're looking for in our gay chat, that's no problem at all. In the following we have summarised the best places for you to meet gay men and wish you good luck in your hunt for a horny gay man. Boy!
Gay bars and cafés in Frankfurt am Main
The ideal gay bar for the Schlager lover -
To the Schwejk
Address: Schäfergasse 20 in the city centre
Are you looking for fair prices, nice staff and above all a good atmosphere? Then you will feel very comfortable here in the Gay Bar zum Schwejk for sure, because numerous hot and horny gay boys come come here every day to enjoy the good atmosphere and to meet gay people. If you love Schlager, you'll quickly notice that it's a hot spot on weekends and a lot of gays meet here around 2am.
Furthermore, you will meet a mixed crowd with different age groups. So it doesn't matter if you're into older gays or younger gay boys, in the gay bar you'll find To the Schwejk you will definitely meet someone!
The rustic ambience:
Stable
Address: Stiftstraße 22 in the city centre
Leather and Fetish are welcome at the Stall - according to the owner. Located in the centre of the city centre, the gay pub has been running successfully for more than 40 years... In the Stall there is no Dress code. Everyone can come as they like - even naked! Here you can live out your preferences and urges to the full. By the way, women are not allowed in the stable, so gays can be completely alone here.
There is a predominantly mixed crowd here, which of course benefits you, as you can find a horny gay boy of your taste. In addition, the Stall is one of the most popular locations for gays in Frankfurt. Not only is everything done here for the fun of gay visitors, but the Stall is also one of the few meeting places of the urban fetish scene.Scene. Since 2017, the bar has been under new management, which has carried out a great deal of renovation. This ensures that the bar will continue to be one of the Top Locations for gays in Frankfurt.
Of course, we also found out about opening hours. The stable is always open from Tuesday to Saturday from 10 pm and on Sundays from 7 pm. Unfortunately, the Stall is closed on Mondays. The gay pub also offers free Wi-Fi during your visit. If you're a smoker, it's guaranteed to be a top bar for you, because smoking is allowed here. You can definitely look forward to an exciting evening with horny gay boys around you!
Find your happiness in the
Lucky's
Address: Große Friedberger Str. 26 in Frankfurt's Bermuda Triangle
One of the oldest scene bars is Lucky's in Frankfurt's famous Bermuda Triangle. Here you'll find everything you could wish for, from lots of coffee and cake to beer and cocktails. If you have a talent for singing, Tuesdays are especially suitable for you, because every Tuesday there is healthy karaoke at Lucky's from 9 pm.
In addition, Lucky's gives everyone a chance to prove their singing talent and convince the audience of their performance. And who knows? Maybe there's a hot gay boy in the audience who likes your voice so much that you start talking - and maybe even to much more.
If you're still looking for a committed relationship or realise that your current one just isn't for you, Lucky's has a special event for you on Wednesday. From 9 p.m. onwards, the singles from the Drag Jessica Walker sets you up. Jessica listens to your wishes and preferences and looks for a suitable gay boy in the pub for you.
Lucky's regulars are also familiar with the good old Bear Lounge, which takes place every Saturday from 8pm. If you like it a bit hairier and are looking for bears, you should definitely stop by the Gay Bar on Saturdays.
Something for the gay and lesbian scene:
Café Switchboard
Address: Old G. 36 in the city centre
The Switchboard is both a café and a gay bar. There is a mixture of relaxation and partying, because here you can not only drink a coffee with your friends or other gays and lesbians, but in the evening you can also have a party in the club. Fair prices and a particularly relaxed atmosphere are very important here. On Sundays, you can also indulge in delicious homemade cake at Switchboard. Are you wondering what makes Café Switchboard so special? For one thing, it's the many dishes and drinks, which are mainly from the region. The menu offers everything from homemade beef sausage and quiche to homemade soups! On the other hand, of course, the drinks are also very special, because the operators of the café .
This café not only offers you drinks and opportunities to celebrate, but is also the perfect place to exchange ideas with other gays. It offers you many rooms for some nice conversations and this for the most part also in groups. In addition, you are also invited to relax here in the summer, because in the lounge you will certainly find a place for your peace of mind.
Furthermore, new events are always offered by the Switchboard for gays and lesbians. These include events such as:
Open stage

SWITCH-Cinema

Beat Club
Not only that, but the Switchboard has also come up with events for special occasions. These include the annual Halloween party, the Oktoberfest and the RosaMontag carnival party.
Small but nice:
Central
Address: Elefantengasse 13
The blue-painted Central, which is located directly in the centre of Frankfurt, is the ideal gay bar for students and young people, because here you will find almost no older gays. Besides the opportunity to meet gay boys, you can also enjoy good music and relax a bit. Although Central doesn't offer cheap cocktails like some other bars, it makes up for it with very competent and courteous staff, high quality and a nice atmosphere. Since there are a lot of students here, Central has a happy hour every day between 8pm and 9pm. At this time, you get all drinks at Central for half price, which is of course a bargain for some.
Other places to meet gay men in Frankfurt am Main
You haven't had enough yet and want to know about more places where you can meet hot and horny gay boys? Then we've put together a list of other bars, clubs and cafés in Frankfurt that are definitely worth a visit:
Bluebar

Comeback

Autographs Bar

So what?
The best gay saunas in Frankfurt am Main
Are you in the mood for some relaxation? Then you'll find the best gay saunas in Frankfurt am Main where you can completely relax and pamper yourself, because you definitely deserve it after a long and stressful day! In Frankfurt, you will find a total of three different saunas explicitly for gays, which will ensure your well-being, wellness experience and relaxation.

Quiet and cosy instead of wild and partying:
Club Sauna Amsterdam
Address: Waidmannstraße 31 in the Gutleut district
Do you want to relax and find your peace, but also have some fun on the side? Then we recommend Clubsauna Amsterdam, because here, in addition to massages and wellness, food and drinks will provide the necessary relaxation and the best fun.
Clubsauna Amsterdam offers you a range of relaxation options in its spa area. Here you will not only find a Finnish sauna, but also a bio sauna. There is also a steam sauna for those who really want to work up a sweat. In addition, Clubsauna Amsterdam offers a whirlpool for those who like to sit in warm water and relax. So if you're a fan of all the things we've just listed, a visit to Clubsauna Amsterdam will definitely be worth your while.
Now we come to the "fun part". The fun factor plays a very important role at Clubsauna Amsterdam, alongside relaxation. Of course, you will also meet other gay boys in the gay sauna, with whom you don't just want to talk, do you? Of course, there is also room for several cabins or for lounging areas in a Darkroom is taken care of. Here you can enjoy your horny gay sex with one of the many gay boys in the sauna and release your pressure. Thanks to the design of the sauna, you won't be disturbed by loud noise in the rest of the sauna and can fully concentrate on yourself - and of course on the other gays around you.
If you don't want to go to the sauna itself, but just want to have a beer or something tasty to eat, a visit to the sauna's restaurant is highly recommended. Here you can get freshly prepared food and a wide selection of drinks in the bar, where you will also be surprised by the price-quality ratio. If you're a smoker, we recommend you go to the bar, because you're allowed to smoke there, too! The bar is separated from the restaurant by a glass door. This way you won't be smoked to death while eating.
Would you like to know when you can go to Clubsauna Amsterdam? Of course, we have also listed the opening hours for you - but please note any changes, for example on public holidays:
Monday is unfortunately a day of rest

Tuesday to Saturday from 13:30 to 22:00

Sunday from 13:30 until 23:00
Pay a visit to Clubsauna Amsterdam and meet hot gay guys! Of course you can also contact us via our Gay chat with someone directly in the Clubsauna Amsterdam. The location is perfect for getting to know someone for the first time.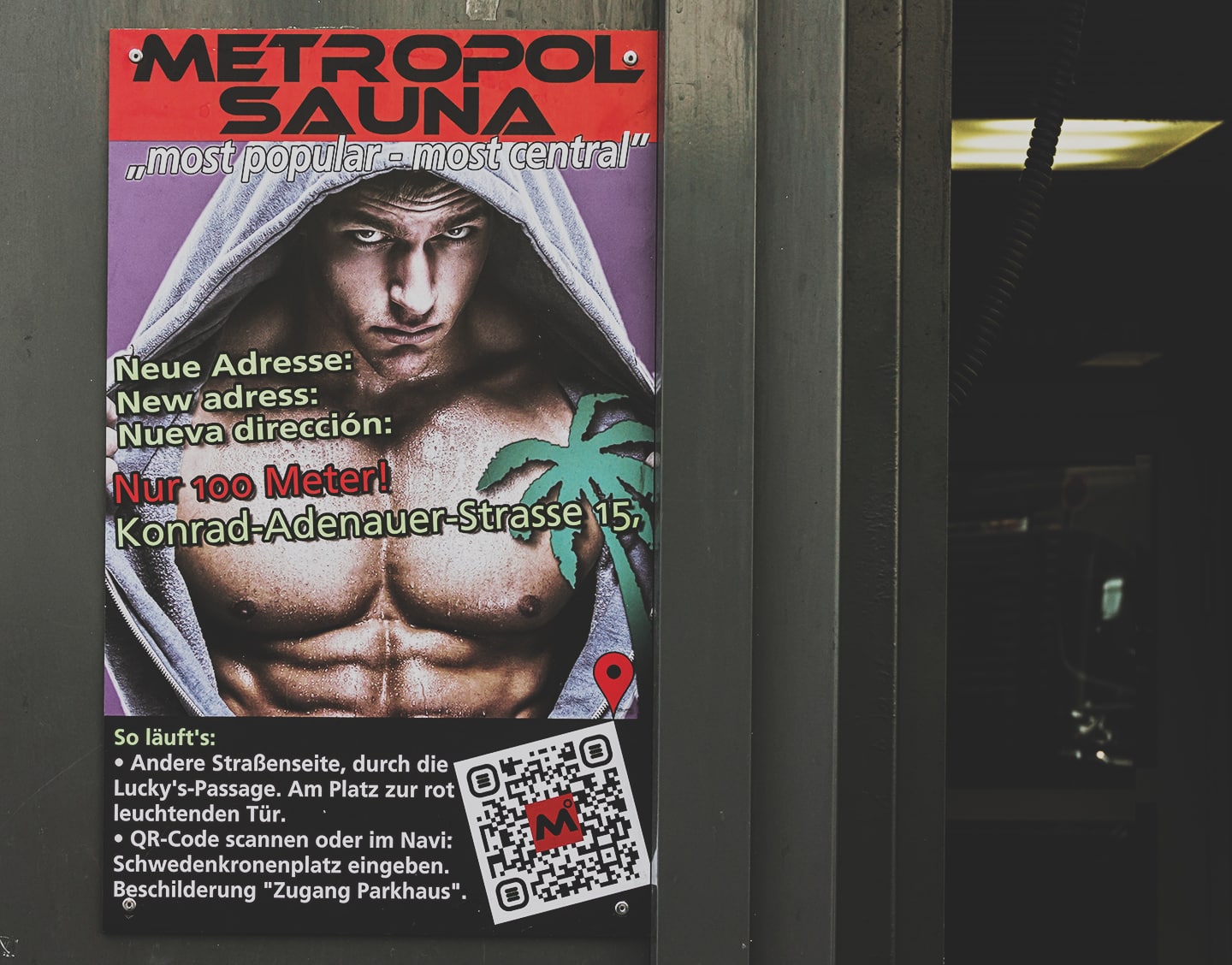 Open 365 days a year:
Metropol sauna

Address: Konrad-Adenauer-Straße 15 (access via Schwedenkronenplatz)
A sauna that is open every day of the year - that is a dream for every sauna lover. The Metropol sauna offers you not only the classic sauna experience, but also much more. Here you can take part in numerous events or benefit from the variety of cruising areas to meet a gay boy.
In addition to the great sauna experience, the Metropol sauna also offers great value for money by offering several discount cards. For example, with the 6-person card, you only pay for five admissions and get the sixth one for free. In addition, the Metropol sauna also has a stamp card, with which you can enjoy free entry after the tenth stamp. Of course, there is also a youngster discount for young gay boys who are under 26. Just bring your ID with you to benefit from the advantages. If you're already taken or going on a nice date with someone to the Metropol sauna, there's also a discount card for visiting together. When you enter, you can simply select the partner rate and in return you both get one entry, two towels and a locker in which to store your belongings. The price of the partner rate ticket is much lower and a real bargain!
For your private fun and hot gay sex, the Metropol Sauna also offers you two different cabins. On the one hand, there is the standard cabin, which is equipped with a mattress, fresh sheets and an HD monitor. On the other, there is the comfort cabin, which is equipped with more space, a larger bed and bathrobes. In addition, for a small surcharge, you can also borrow everything you need, such as bathing shoes, pillows, woollen blankets or towels in various sizes. Furthermore, you will have a fuck rack at your disposal for endless fun and realisation of your fantasies. Thanks to the numerous possibilities, you can enjoy unforgettable gay sex in the Metropol sauna.
Is your body tense and has it been bothering your entire body for a few days or weeks, or just certain areas? Then you shouldn't miss out on a massage from one of the medically trained masseurs in the Metropol sauna. Let the masseurs relieve you of all your tension and make you feel good. Since the masseurs have learned several massage techniques, they will definitely make all your aches and pains disappear in the recommended 60-minute massage. Of course, you can also go to the masseur with your hot gay boy, whom you may have just met in the sauna, and book a joint massage for both of you. With a relaxed body, you can enjoy the benefits and retreats in the gay sauna even better.
In addition to the massage offer, the saunas and the whirlpool, the Metropol sauna also offers you a well-equipped fitness room with lots of equipment. Here you can do some relaxed sport, show what you can do and go on a quest for booty... Of course, the Metropol also thinks about your hygiene. For example, anal douches are provided in the washrooms. And the cleanliness in the sauna is also first class!
It's all there:
Saunawerk
Address: Eschersheimer Landstraße in the district Nordend-Ost
As the title of this sauna tells you, the Saunawerk really does have everything you need. Not only is there a heated swimming pool, a hamam with a starry sky and a whirlpool, but also a dry sauna, a tepidarium and a bar.
Dark booths and cinemas for your privacy are of course also available. In addition, the indoor and outdoor areas are colourfully illuminated and offer guests a great atmosphere. The Saunawerk ensures that you can forget your everyday life and immerse yourself all the more in Frankfurt's gay scene.
In addition to the already abundant offer, the garden and the terrace are available for sunbathing in summer. Here you have the best opportunity to meet other gays and exchange ideas with them. Maybe you'll find a hot gay guy with whom you'd like to go straight to one of the dark rooms.
But the Saunawerk offers you much more:
Regular events during the week and at the weekend

Motto and foam parties

Promotions and discounts

Student sauna

Quiet rooms

Cruising areas with glory holes

Toilets with intimate showers
Do you have questions or need help? You can always rely on the staff at Saunawerk, because they are always ready to help and advise you if you get stuck.
The best cruising areas in Frankfurt
In Frankfurt am Main you have a very large selection of cruising areas, which are spread all over the city and the surrounding area. Since we can't tell you about every single location, we'll list the best and most frequently visited cruising areas here, where you can have a lot of fun and very horny gay sex. At these locations the probability is very high that you will meet more than one gay boy for cruising.
Gay sex in flap no. 1:
Old Opera House

Address: Opera Square at the Lucae Fountain
The Flap Old Opera House is very popular in Frankfurt, because there is always something going on here. Several gay boys come here to be pampered and to spoil other gay boys. In terms of age, you have plenty of choice here, because from young to old, gays from every age group are represented here and are looking for fun just like you.

Not only the urinals, but also the two toilet cabins are usually very busy - and you definitely shouldn't miss it. However, we also have some bad news - unfortunately you can't use the toilet here. Glory Hole find. But you will surely be so busy with the selection of gay boys that you won't even want a glory hole anymore.

A little hint: The toilets will be closed from 10:30 pm onwards
Gay sex in flap no. 2:
Underground station Bockenheimer Warte

Address: Berliner Straße at Bockenheimer Warte station
At the flap at the underground station Bockenheimer Warte you can meet several students during the day who are looking for hot gay boys and non-committal gay sex. The place is very popular for cruising, as there are not many controls here and the gays can therefore go cruising undisturbed. Unfortunately, you won't find any glory holes here either, as they were all removed some time ago.
It's not the cleanest place either, but for some gays that's what flap sex is all about and if you're all in on your gay sex, you won't let that stop you either. You want to know when the flap closes and when you meet older men? This door is also closed after 10:30 p.m. and you're more likely to meet older men here in the evening, as it's mainly students who are here during the day.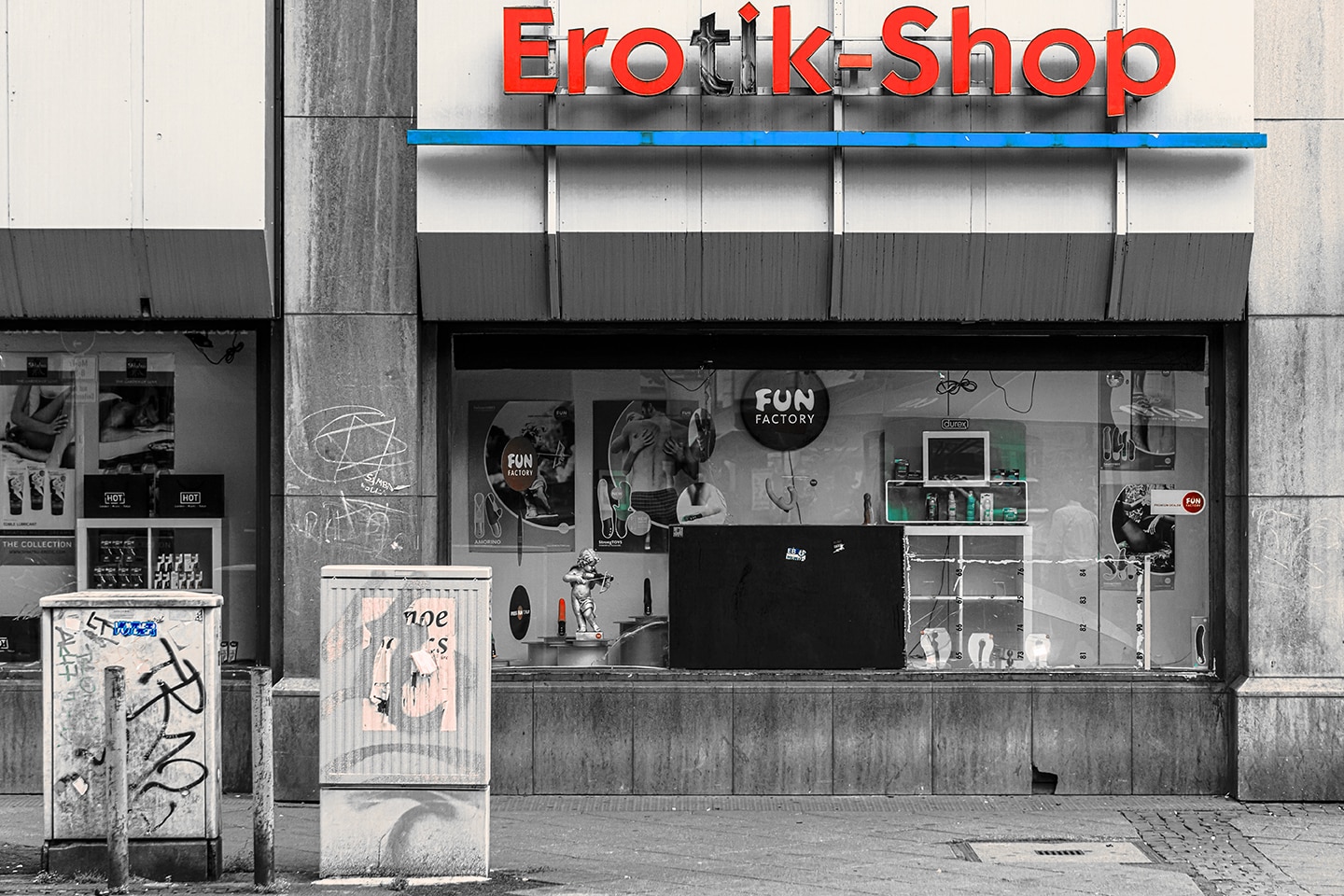 The best gay shops and gay cinemas in Frankfurt am Main
The city of Frankfurt am Main offers the gay scene a total of two sex shops and a Gaykinowhich is integrated into one of the sex shops. Both shops are in the immediate vicinity, only 7 minutes away from each other by car. This means that customers don't have to go far if they can't find the sex toy they want in one shop, because they have the option of asking at the other shop and don't have to drive or walk so far.
The gay shop with the integrated gay cinema:
Jerome Cinema & Shop
Address: Elbestraße 17 in the city centre
At Jerome Cinema & Shop you will be offered a wide range of sex toys that you can use when pampering your partner, for a quick sex session or for cruising. . Since this gayshop is also a Gaykino Here you can meet many other gay boys with whom you can have hot gay sex and have your needs satisfied.
There are also so-called nude days here, which take place every Sunday from 12 noon and every Wednesday from 6 pm. These events are particularly popular with visitors to the gay sauna. The best comes at the end, because the entrance to the gay cinema has a top price-performance ratio.
Sexshop for Him:
Beate Uhse
Address: Stiftstraße 4 in the city centre
The Beate Uhse sex shop has many sex toys designed for both men and women. Here you can find all kinds of vibrators, penis rings, penis pumps and even Penis Sleeves, Inflatable Pumps and Anal Toys!
Particularly popular here are the Prostate Vibrator, the penis ring and testicle plug or the touch vibrator, which has a warming function and provides unforgettable climaxes.
Of course, you can also visit Beate Uhse in Frankfurt together with your partner. The competent staff in the sex shop - which is also geared towards gays - will be happy to help you if you have any questions about certain products.
---