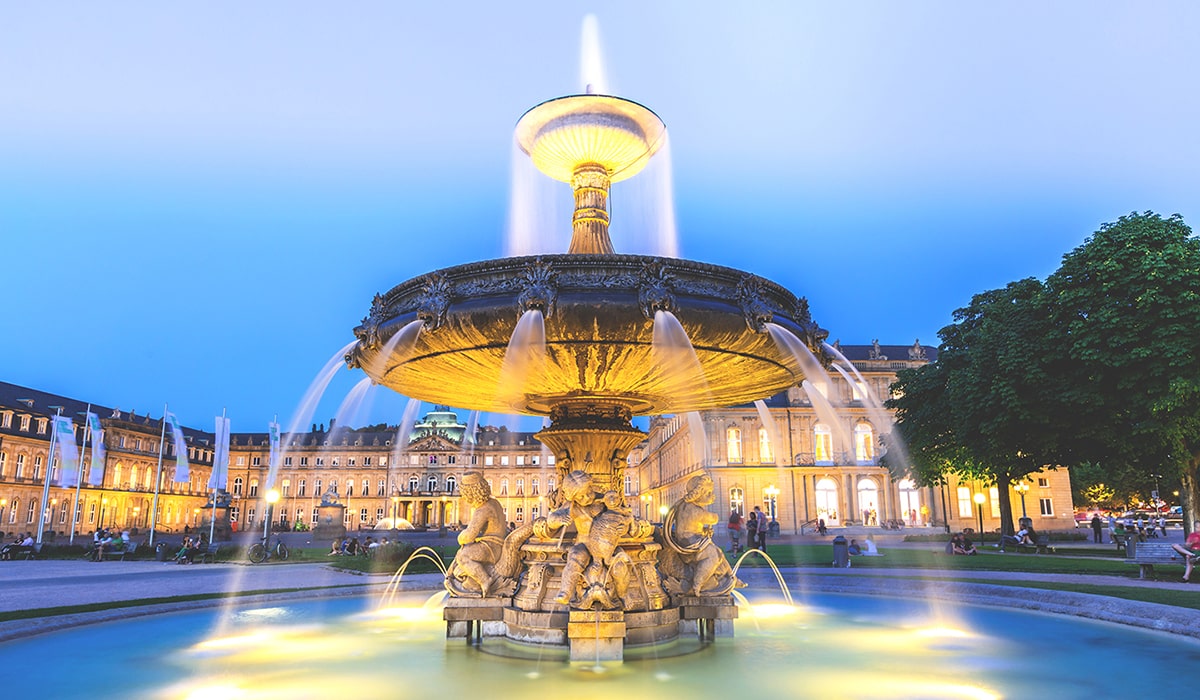 Gay contacts in Stuttgart: These are the top addresses for meeting gays
Stuttgart is not only the capital of the federal state of Baden-Württemberg, but also its largest city and Germany's sixth largest. The core city of the metropolitan region is home to around 635,000 residents on an area of 207 km2. Located in one of the largest conurbations in Germany, the city district is divided into 23 districts and is home to Daimler and Porsche. But true travel experts also know Stuttgart for its many vineyards and green spaces, as well as many festivals and a vibrant nightlife.
Gay dating in Stuttgart
Why is Stuttgart so exciting for gays?
Stuttgart's gays Scene is traced back by some historians to royal times. It is speculated and assumed that some Württemberg kings gay were. Accordingly, the history of gays in Stuttgart is far-reaching.
In the golden 20s, despite prohibitions by the Section 175 enjoy life carefree and therefore sought meeting places in hotels or bars. In Stuttgart, this was mainly the Hotel Marquardt or the Metropol building. After the war, the meeting places for homosexuals changed. People left home late and accordingly needed a cheap hotel - like the Bunkerhotel on Stuttgart's Marktplatz. Particularly popular at that time were also the unobserved retreats in adjoining rooms of pubs and shops where homosexuals could party and dance undisturbed. It was only after the ban was lifted that gays were able to live out their convictions in public. However, this was initially associated with discrimination.
Since 2000, the colourful Christopher Street Day parade has therefore been parading through the streets of Stuttgart every year, attracting thousands of people with its demonstration for more tolerance and acceptance.
But how can you meet gay men in Stuttgart? In addition to the possibility of making contact via our portal, we have listed the most popular hotspots for gays in Stuttgart. There are numerous pubs, cafés and clubs in Stuttgart where you can meet gays. But not only that. Our selection is also particularly suitable as a location for a first date!

Gay bars in Stuttgart
Golden Henry
Address: Leonhardstraße No. 3 in the town hall district
The rustic bar is a true institution in Stuttgart's gay scene. The "Goldener Heinrich" is considered the oldest gay bar still in existence in Germany. It is easily accessible in the heart of Stuttgart's old town. The bar is complemented by a menu of mainly international cuisine. There is certainly something for everyone here! The clientele ranges across all age groups. The popular meeting place not only attracts local gays and their friends, but is also known throughout the country. In the pleasant and relaxed atmosphere, the doors of the "Golden Heinrich" are open to everyone!
Jakobstube
Address: Jakobstraße No. 6 in the Mitte district
The Jakobstube in the Leonhard quarter of Stuttgart's old town has been uniting the gay scene for almost three decades. Everyone is welcome in the rustic bar in Stuttgart's red light district. Although the pub is known as a gay bar, it is open to everyone.
The pub is complemented by hosting regular events such as Tavestieshows, readings and discussion rounds. The lively Jakobstube therefore offers you a varied programme with a colourful crowd. If you live in Stuttgart or are even just visiting, you should definitely pay the Jakobstube a visit.
Gay meeting -
K29 - The Zieglerkeller
Address: Blumenstraße No. 29 in the Diemershalde district
The cellar run by Gayzone Stuttgart e.V. is a bar run by volunteers. Therefore, they do not run a commercially oriented gastronomy, but organise events such as the Friday Cellar or Saturday events in their free time. The events are not open to the public, but are accessible to members and also day members of Gayzone Stuttgart e.V.. Pre-registration via the homepage is therefore strongly recommended so that you don't miss out on a party in the Zieglerkeller.
The Friday Cellar offers you an opportunity to hang out in a relaxed atmosphere, meet old friends and get to know new people.
The special events support the popularity of the K29. About Fetish-In addition to parties and cruising events, the cellar also offers parties for decades. So there's something for everyone here! So don't miss your location for a Friday or Saturday night!
Amber
Address: Pfarrstr. no. 7 in the town hall district
In a cosy, relaxed atmosphere, you can definitely spend a fun evening with friends at Bernstein in the heart of Stuttgart. The games bar is a combination of restaurant and bar. A seasonal menu offers successful variety, while a wide range of drinks provides the right catering.
In the cosy rooms you will quickly meet new people and make friends.
Stuttgart Gay Meeting No. 6:
Eagle
Address: Mozartstraße No. 51 in the district of Lehen
The traditional gay pub Eagle, also known to Stuttgart locals as the "institution of gay life in Stuttgart". Here you can party together, go on dates or start the adventure of a darkroom. At least for now! At the moment, there is a lively debate with the city politicians about the continued existence of the bar in Stuttgart. After a change of ownership, new negotiations are being held here, but these are linked to strict conditions for the operator of the Eagle. The online petition for the preservation of the Eagle is therefore running to prevent a closure of the club due to the high conditions and to ensure its continued existence. This is not only a decisive factor for the lifestyle and satisfaction of the gay citizens of Stuttgart. This is also about the survival of a traditional venue that, together with the Stuttgart AIDS aid organisation, has for decades been concerned with prevention and education, as well as providing a shelter for gays.
Gay meeting no. 7:
Monroe's
Address: Schulstraße No. 3 in the Neue Vorstadt district
Café Monroe's in the centre of Stuttgart offers a rustic-romantic ambience and a beautiful terrace where you can spend some cosy hours. Towards the end of the day, things heat up in the bar. Enjoy the happy hour every Monday from 7pm to 10pm and rock the karaoke on Tuesdays from 10pm.
Open daily, the café and bar are meeting places for a broad Mixed group from LGBT and many more. Therefore, Monroe's is the perfect location for you to meet new gays. If you are in Stuttgart, you should definitely not miss a visit to Monroe's!
Stuttgart Gay Meeting No. 8:
Raven
Address: Marienstraße No. 36b in the Mitte district
The Raven in Stuttgart is a clubhouse and meeting place for gay and lesbian bisexual Men. The Cruising Club is a private club with daily memberships, so you too can gain access to the club's exclusive cruising offers.
The popular themed events take place regularly and offer an exciting alternative for everyone. Whether mottos with specific Dress code, Gangbang-The Raven is a nightclub that is sure to satisfy the needs of its clientele. It's definitely worth giving the adventures at the Raven Club a chance, because you're sure to make acquaintances here!
The hottest meeting places: Gay saunas in Stuttgart
Stuttgart offers gay men two gay saunas to relax and enjoy. Both are ideal meeting places if you like to work up a sweat.
Gay sauna in Stuttgart No. 1:
Pour Lui Gaysauna
Address: Schmidener Straße no. 51 in the Kurpark district
The Pour Lui sauna has been delighting gay men from Stuttgart and the surrounding area for six years now. Located in Stuttgart's Kurpark district in the centre of Bad Canstatt, the sauna is very easy to reach.
Newly renovated, the sauna features a bar with bistro, several changing rooms and various saunas. With a range of dry saunas, steam baths, relaxation cabins, video areas and a cruising labyrinth, there is something for everyone. The tasteful interior design invites you to relax and makes your stay even more exciting.
With monthly events such as the Mask and Naked Party, the sauna offers an extensive entertainment package that is not to be missed.
Gay sauna in Stuttgart No. 2:
Viva Sauna
Address: Charlottenstraße No. 38 in the district Heusteigviertel
The second of Stuttgart's two gay saunas is centrally located in Stuttgart's Heusteig district. Stuttgart's largest and probably most established gay sauna offers you pure relaxation on one floor. In addition to saunas and a steam bath, you can relax with a massage in the relaxation zone. In addition to several lounges, you can meet and get to know gays in the restaurant and bar.
You can retreat to the relaxation rooms and private cabins and enjoy the private atmosphere to the full. Open daily, the sauna offers you an ideal meeting place for gays and pampers you with numerous wellness offers.

He is looking for him: Cruising in Stuttgart
Are you looking for suitable cruising places in Stuttgart? Then you've come to the right place! We present the most popular cruising hot spots in Stuttgart. This way you can also find partners quickly and easily.
Stuttgart's No. 1 cruising spot:
TV Tower
The municipal TV tower is particularly popular among Stuttgart's gays as a meeting place for cruising. Here, especially the toilet of the kiosk there, the car park under the TV tower or even the forest behind it is a popular and very vacant meeting place. Especially in summer, there is a lot going on here and meeting gays is accordingly easy.
If you are looking for quick and uncomplicated acquaintances, the TV Tower is the place to be! Especially since many meeting places of the gay community have lost their importance due to construction sites and other obstacles, Stuttgart cruising is concentrating more and more on the TV Tower. However, in order to avoid increased surveillance of the area and possible fines, please make sure to avoid trouble by leaving behind condoms, soiled handkerchiefs and the like. This way, everyone can continue to enjoy cruising at the TV Tower and other locations for a long time to come.
Stuttgart's Cruising Treff No. 2:
Indoor swimming pool Heslach
The indoor swimming pool in Stuttgart's Heslach district will reopen its doors to the public in autumn 2020 after extensive renovation. The swimming pool is particularly well known for regularly held men's days and NUDIST-baths where cruising enthusiasts get their money's worth. come. On men's days in the pool's sauna, you're sure to find relaxation and fun here. Especially in the shower area of the indoor pool in a more private atmosphere, more is possible.
No. 3:
Uni Klo Vaihingen
The toilet facilities at the University of Vaihingen are considered a popular cruising meeting place. The ground-floor toilet behind the university library including the Glory Hole is particularly popular with gay students and well attended.
So if you're looking for contact with young men, you should definitely stop by here. It's also worth paying a visit to other glory holes in the toilets of the university, because there's always a lot going on here. So if you're looking for quick encounters with students, you shouldn't miss out on the Uni Vaihingen.
No. 4:
Flap at Schillerplatz
Easily accessible by suburban railway or tram, the Flap in the subway at Schillerplatz is a well-visited cruising location. There are good contact opportunities here until deep into the night. There is no glory hole (yet), but there are two urinals and cabins where you can retreat.
No. 5:
Car park forester's lodge 1
Located on the Vaihinger Landstraße south of Stuttgart-Botnang, the cruising area is mainly at the back of the car park. If you leave your car's parking lights on at dusk, you won't have to wait long. The car park is used by a mixed crowd. Whether gay, bi or StraightHere, everyone can find the right contact. The car park is therefore definitely worth a visit.
No. 6:
Spa Park
A long-standing and popular cruising spot, especially after dark, is Stuttgart's Kurpark in the Bad Cannstatt district. Popular with gays of all ages, you are sure to find a contact opportunity here. Sometimes there is a lot of activity here until the early hours of the morning. For action, however, people often retreat to the higher-lying spa gardens.
The best entertainment for gays in Stuttgart
Stuttgart offers numerous gay shops and gay cinemas for entertainment and pleasure. We have filtered out the best erotic cinemas and shops for you.
Stuttgart's No. 1 gay cinema:
Bluebox
The Stuttgart erotic cinema Bluebox offers you with DarkroomCruising opportunities and Gloryhole's adventure on 3 floors. In the cinema area, films are shown in the straight, gay, trans and bi categories. So there really is something for everyone. In the many cabins you can choose the films you like. In addition to the cabins with glory holes, you can also retreat to lockable cabins in a private environment.
Monthly theme days provide additional excitement in the cinema. In a tolerant and colourful environment of young and old people of all sexual orientations, it is very easy to make contact. Here you can also find your partner or spend a few pleasant hours as a couple.
Stuttgart's gay cinema no. 2:
Crazy Video Show and Cinema
Open daily, the Crazy Video Show is your place to go for entertainment and adventure. The modern cinema shines again in new splendour after a recent renovation. Cinemas and individual booths play videos of well-known labels in the straight and gay area. Cruising areas offer extensive opportunities for socialising. The sale of toys offers new adventures, which can also be used directly in the individual booths.
A visit to the Crazy Video Show is therefore also a good opportunity for you to make new contacts and experience exciting adventures.
Gaykino No. 3:
Max Erotic Store
Located in Stuttgart's city centre near Wilhelmsplatz, you'll find everything for your love life and adventures in a modern and stylish atmosphere. In addition to a large selection of toys, DVDs and a pharmacy area, a "Hello Bi's and Gays" event is held every Saturday in the cinema. Here you can meet new people, enjoy some good times and explore the cruising area.
The cinema offers you variety with weekly changing films on large-screen monitors. You can also have fun in the dark room or the glory hole cabins.
Due to the rather small size of the cinema, getting to know others is made much easier and you are sure to get your money's worth.
Stuttgart's No. 4:
Cinemaxx at the Liederhalle
Even though the national cinema Cinemaxx is not a purely Gaykino the Cinemaxx at the Liederhalle in Stuttgart also offers a gay film night. Every third Friday of the month, a different film for and about gays is shown. So you don't necessarily have to go to a Gaykino to enjoy a film with like-minded people. However, if you want to live out certain preferences and needs, you should resort to the previously mentioned Stuttgart gay cinemas.
Homosexuality in Stuttgart
Due to its size alone, Stuttgart's gay scene cannot be compared to that of Berlin or Cologne. Nevertheless, Stuttgart holds its own, albeit much smaller. Politics has had a particular influence on the gays in Stuttgart. The political climate of the last few decades has been rather less supportive of equal rights for gays and lesbians. This is precisely why many gays in the state capital fight for tolerance and acceptance. This is expressed above all in the numerous voluntary organisations and associations, such as the gay choir Pink Note or the gay sports club Abseitz. United as one - that's what makes the Stuttgart gay scene so strong.
Meetings of the groups and clubs are therefore usually held in the gay and lesbian centre Weissenburg in the south of the city. The self-managed café located there is probably the central point of Stuttgart's gay scene, because the city does not have its own gay quarter. The pronounced gay and lesbian life takes place in the entire city centre.
Gay spots are spread throughout the city and can therefore also be found in places where you would not expect to find them. The Kings Club in particular has long been well-known among Stuttgart residents, but what many people don't know is that it attracted people from all over Germany when it opened in 1977.
Today, the annual Cannstatter Wasen is a real magnet, not only for gays and lesbians. Homosexuals get their money's worth especially at the "Gaydelight" or "Chickennight" themed events held here.
Particularly popular and also known beyond the city limits of Stuttgart, Fräulein Wommy Wonder offers cultural entertainment at the highest level every summer. The performer Michael Panzer was born in Upper Swabia and started his career with performances at company parties, galas and in cooperation with friendly groups. With his own programme, he quickly conquered regional and national theatres. Since then, a new programme has been staged annually at the Renitenztheater in Stuttgart. The Variety Theatre of the successful lady is very popular all over Germany. A gay man with a weakness for women's clothing impresses not only the gay audience. Many a woman is envious of the dazzling costumes, the pompous tower hairstyle and the long legs in breathtaking heels.
The foundation of such events and today's bars and clubs goes back to the opening of the first gay bars in Stuttgart's old town - the Leonhardsviertel. Since homosexuality was still a punishable offence at that time, namely until the end of the 1960s, the bars were not visible from the outside. Many meetings also took place in adjoining rooms of shops in order to be together unnoticed and in private. The first bars outside the neighbourhood opened after the ban was lifted and gays could move around freely.
Even though some of the gay-only bars have closed down in recent years, it is safe to assume that gay people can have a lot of fun and feel comfortable in Stuttgart.
Christopher Street Day in Stuttgart
The annual Christopher Street Day parade has also been celebrated in Stuttgart since 2000. Every year, thousands of people fight for more acceptance and tolerance in society, especially at the politically committed parade in Stuttgart. The highlight of the Stuttgart cultural festival on Christopher Street Day is the political parade every year. This political demonstration is intended to publicly present the demands, the wishes and also the protests of the gay and lesbian community. Participants are especially lesbian, gay, bisexual, transsexual, transgender, intersexual and queer people.
The parade through Stuttgart's city centre will be shaped by the diverse participants. From foot and motorbike groups to cars and trucks as well as individuals, the political parade offers everyone the opportunity to demonstrate, but also to celebrate.
Christopher Street Day originated in New York in 1996, when homosexual people in New York joined forces to defend themselves against police attacks. The German name Christopher Street Day was inspired by the centre of the demonstration on Christopher Street. In other countries, it is more commonly referred to as Rainbow Parade or Rainbow Day. Pride Parade. According to this, the term CSD is a German phenomenon.
Since then, every summer, people with a fun-loving, funny and above all colourful vibe take to the streets to fight for equal rights for gays and lesbians.
Experience the annual Christopher Street Day and its political parade in Stuttgart and be part of the Stuttgart gay community!
---