4 reasons why it makes sense to stop smoking, especially in summer.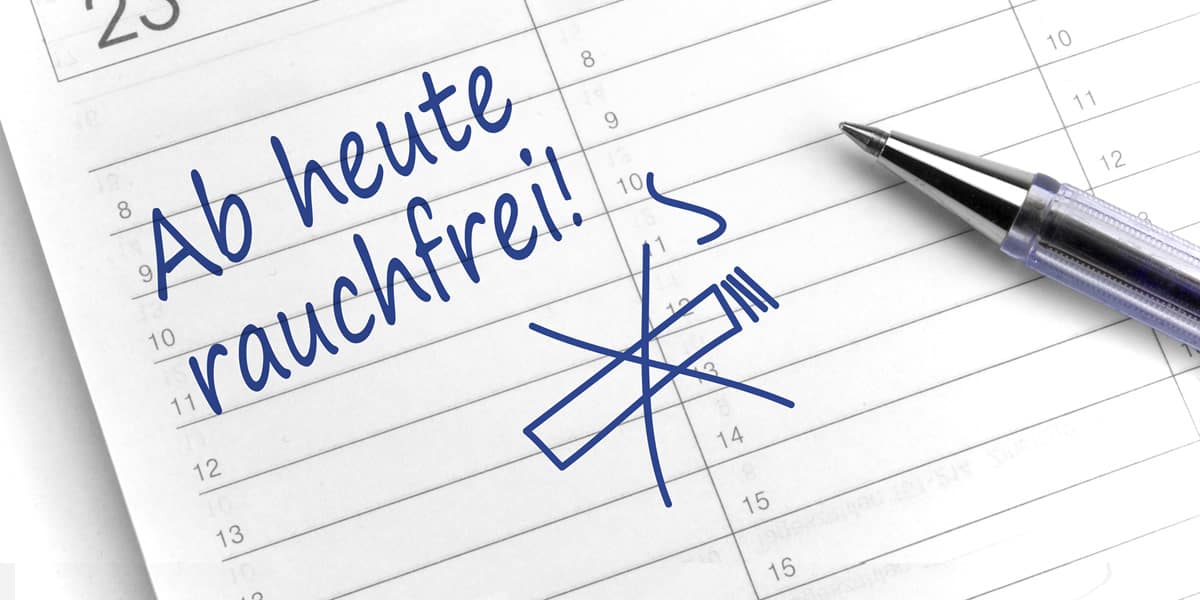 Who hasn't heard of good New Year's resolutions to quit smoking? However, the plan to "finally quit smoking this year" is sometimes already history by mid-January. However, there is nothing to stop you from giving up nicotine in the middle of the year.
In fact, summer, with its warm temperatures, is a perfect time of year when it comes to living a little healthier.
The following four reasons show why smoke clouds, cigarettes and co. definitely do not fit in with the sunny season and why it is still perfectly permissible to have good intentions during the year.
Reason No. 1: Sweat and cigarettes somehow don't go together
At the latest when the temperatures on the thermometer have cracked the 30 °C mark, it becomes apparent that many people smoke not only for pleasure. Often the addiction makes it (seemingly) necessary to smoke, for example to reduce stress and to be a little more relaxed.
However, if you take a little time to listen to yourself and your body while having a cigarette in the sun, you will quickly notice that it feels anything but pleasant to be sweating and wrapped in a cloud of vapour at the same time. Sometimes there is even a risk of circulatory problems. It is much more summery (and healthier) to cool down with a cool glass of water in the shade and to stop smoking.
Reason No. 2: The sense of taste improves
Especially in summer, many delicacies invite to be discovered. Whether fruit or barbecue creations: the possibilities to make this special season a little more culinary are versatile. All the better if all the flavours can actually be enjoyed, isn't it?
The good news is that people who want to stop smoking usually notice a change comparatively quickly and often wonder where all the different taste sensations come from.
Reason No. 3: Exercise in the fresh air is distracting
Many smokers are afraid to stop using nicotine because they are afraid of gaining weight. This is actually not an old wives' tale. Many smokers show more weight on the scales after or during cessation. However, this is not because the body is suddenly no longer supplied with nicotine, but can rather be explained by the fact that people are now usually looking for some kind of "substitute drug". A popular solution: chocolate.
However, if you know that the danger of snacking attacks lurks here, you can take countermeasures early on and use the opportunities of summer to distract yourself from any hunger pangs. Whether it's a walk, a jog or a new hobby: rarely are the possibilities more versatile than during the warm season!
Reason No. 4: The chances of flirting can increase
Many singles no longer find smoking as sexy as it used to be. At the latest after the first kiss between a smoker and a non-smoker, the illusion usually vanishes. Because: a smoker's kiss actually tastes "different".
On the other hand, those who take care of their bodies, perhaps do sports and eat a conscious diet, are particularly attractive to many people. After all, a healthy lifestyle demonstrates, among other things, a high degree of self-control and justifiable self-love.
And: Dates that aren't interrupted every half hour by a "Excuse me, I'm going to smoke a cigarette!" seem more relaxed and stress-free anyway, don't they?
You might also like this exciting article: Guido Maria Kretschmer goes crazy at Shopping Queen