Temperatures up to 40°C - 5 tips for staying hydrated.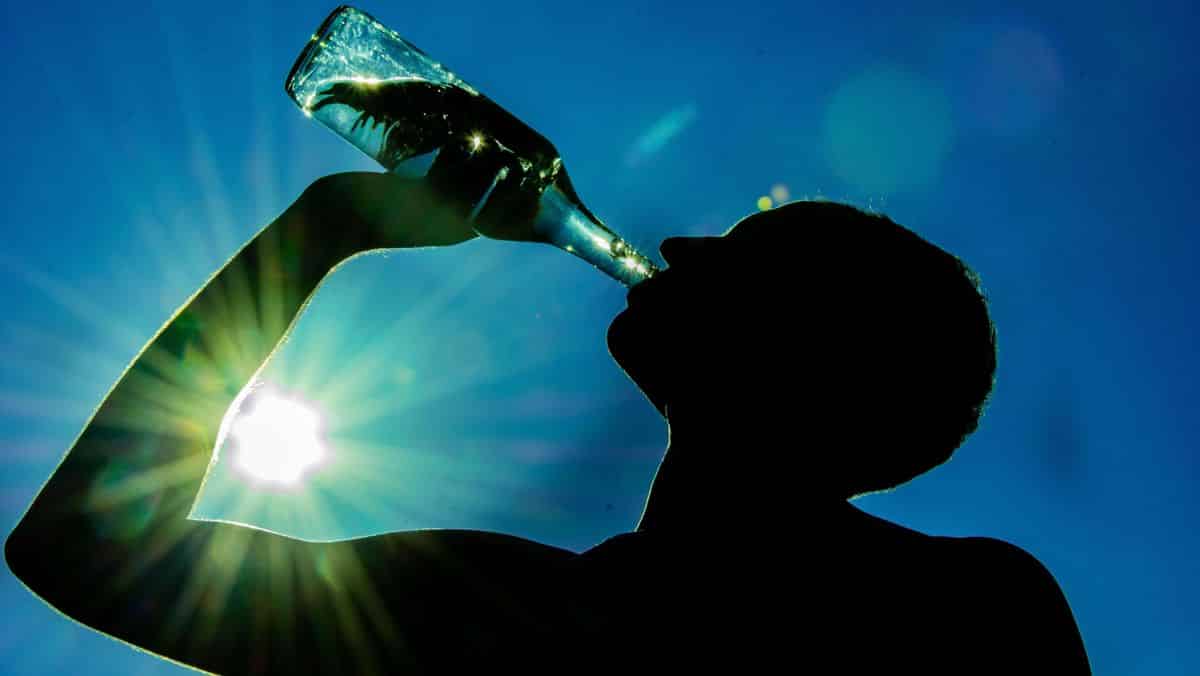 Germany is groaning under the heat wave! Temperatures are rising and in many places are now easily breaking the 35°C mark. What's important now - besides a positive attitude to life, fun in the Flirt and jumping into the quarry pond - is at least as important: sufficient fluid intake.
However, many summer lovers know the problem: they are not thirsty. It is only comparatively late in the day that the body makes itself known with a dry throat and the wish to be allowed to drink "NOW, NOW! To avoid such situations in the first place, it is advisable to take precautions now. The following tips should make it a little easier to drink enough in the summer.
Tip no. 1: always keep the water bottle in sight
Those who want to train their beach body for summer in winter often trick themselves a little by placing the water bottle in the office kitchen, forcing them to get up again and again. But: in high summer, this is not a good idea.
From 30°C at the latest, the water bottle should always be in sight. It can serve as a reminder that it's time for a drink again.
Tip no. 2: Drink water with flavour or tea without sugar
Here, opinions sometimes diverge considerably. Not everyone is enthusiastic about the classic taste of mineral water.
Thank goodness, however, that there are alternatives! Tea without sugar or fruit juices mixed with water are of course just as good for replenishing the body's fluid balance. With regard to soft drinks, however, caution is advised! They are not only unhealthy - especially in large quantities - but can even increase the feeling of thirst afterwards!
Tip no. 3: make drinking water a habit
If you only pay attention to drinking enough for a few days, you will quickly notice that a kind of habit can develop. This effect can be further strengthened if a glass of water is always drunk at certain times, for example at lunch. A nice side effect is that, depending on the amount of water drunk, the satiety effect can set in a little earlier when eating, possibly supporting a more conscious diet.
Tip no. 4: Mark water bottles
All friends of special challenges should be happy about this tip! Because: it can be incredibly motivating to mark a water bottle at the beginning of the day with times and corresponding markers. The goal: mark X must be reached at xx:xx. Ideally, a 1.5 litre bottle should be completely empty by halfway through the day.
The exact amount of fluid an individual needs depends on several factors, such as physical activity, age, weight, etc. The "average" is about three litres per day. A "healthy average" is about three litres per day.
Tip no. 5: Use apps
Challenges are of no use? Your body is still not responding after hours? In this case, it can be worthwhile to get a little support. There are now numerous apps that remind their users individually of their individual drinking rations.
Before they can start, the corresponding applications often ask for important data, such as weight, gender, etc., in order to be able to support their users even more specifically.
Conclusion: Drinking is important!
Even if it sounds like advice from grandma: drinking is important. If you are too careless, you risk damaging your health (especially your kidneys) and your skin will look flabby and unhealthy. The good news is, however, that drinking plenty of water can be learned, so that a person who is not a water drinker can often develop into a passionate water lover. The often positive effects then often help all by themselves to stay on the ball - of course also in autumn and winter.
You might also like this exciting article: Drag queen Katy Bähm mixes up Promi Big Brother.