Kylie Minogue releases album "Disco" in November

Kylie Minogue, she is considered - even though she herself is straight is - as one of the icons of the LGBT Scene. With songs that are suitable both for dancing and sometimes for crying, the Australian always manages to outdo herself. Her new album "Disco" is due to be released on 6 November. Fans can already pre-order the album now.
If you're already in the mood for a bit of Kylie, you can currently listen to the new single "Say Something" Secure
"Say Something" as a little foretaste of "Disco".
At "Say Something" is the first song from Kylie's 15th studio album. The song was produced by Biff Stannard. Lines like "We're a million miles apart in a thousand ways....Love is love it never ends, can we all be as one again?" certainly make you sit up and take notice, especially nowadays. Goosebumps are guaranteed.
The predecessor of the new album was released in 2018 and was called "Golden". "Golden" made it to No. 1 in the charts in both Australia and the UK.
The likelihood that Kylie will work with "Disco" will land a hit again is comparatively high. For the statisticians: their singles made it for more than 300 weeks, in the official British Single Top 40 to remain. Worldwide, their albums sold more than 80 million time. The singer was awarded three Brit Awards and two MTV Music Awards excellent.
On "Disco", the exceptional artist collaborated with creative director Kate Moross and video director Sophie Muller, among others.
Kylie Minogue "Disco" is likely to go in a new direction (once again)
The title (and also the first song) of the new album gives the impression that Kylie Minogue is once again going in a new, albeit familiar, direction.
While fans of pop and country music got their money's worth with "Golden", Disco promises to be a little more "dancey" again.
Kylie fans should be pleased. After all, it's just the old numbers, like for example "Can't get you out of my head" or "I should be so lucky"who can attest to the Australian's real catchy tune potential. So "Back to the roots? You could say... If you didn't know that the artist is difficult to pigeonhole musically.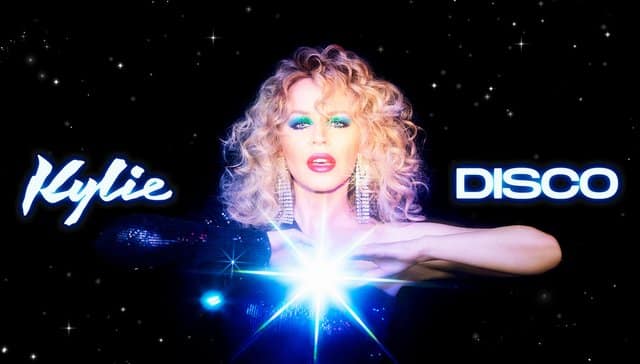 What connects Kylie Minogue to the LGBTQ scene?
Of course, the songs are not the only reason why so many queer people idolise their Kylie Minogue. The singer's mutual love for queers has a much deeper meaning.
In numerous interviews, the singer has spoken out for more tolerance and repeatedly emphasised that she would not presume to tell others who or how they should love. It is sentences like these that make people sit up and take notice in a time full of prejudice and show how stars can use their role model function in an impressive way to perhaps move something in people's minds.
Moreover, Kylie Minogue was one of the first straight women to side so explicitly with the LGBTQ scene.
Whereas today many people certainly ask themselves with such statements by up-and-coming stars to what extent an opinion expressed can also be justified in marketing terms, the 1.52 m woman convinces with a high degree of authenticity - according to many fans even away from the cameras.
This exciting article might also interest you: Criticism of Farid Bang Video