Trousers for fashion-conscious gays - that's the trend!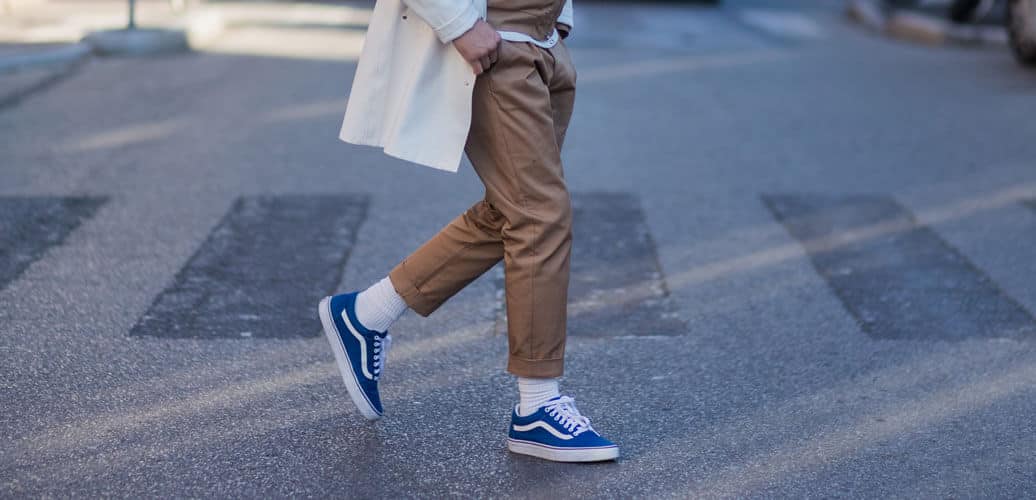 The times when - especially in the already rather gloomy autumn months - people still "blindly" reached for "any trousers" are over! If you want to make a statement today, you can do so in many different ways.
A pattern that almost always celebrates a small revival in the cold season: Check. But even far from the individual design, it is possible to make a fashion statement with the help of the matching types of trousers.
But which types of trousers are actually particularly popular in autumn 2020? What are the current "must haves" in the wardrobe?
Fashion-conscious gays should not have to do without the following models this year.
The pleat trousers
If you are looking for trousers that combine casualness and elegance, you will probably find them in the pleated trousers. They are characterised by a loose fit and corresponding comfort. Thanks to the comparatively high seat, they create great looks - especially in combination with slightly shorter tops.
A special advantage: pleated trousers - with the right accessories - can also be worn super in the office. This is especially true when they are complemented by a blazer.
The corduroy trousers
The material corduroy has already become an indispensable companion for the cold season. It is characterised by a light-warming effect and its very special retro look. Therefore, it would definitely be wrong to still associate corduroy with the classic "teacher look".
On the contrary! With the matching tops and shoes you can create great effects - from casual to stylish.
The linen trousers
Looking for a pair of trousers that are perfect for enjoying the (still) warm autumn days? Then it might be worth extending the linen trouser season a little beyond summer.
Hardly any other garment adapts so appealingly to the movements of its wearer. At the same time, this accessory hardly ever looks unkempt. In the right colour, freshly ironed and with a shirt, linen trousers can often be integrated into a business outfit.
But be careful! On cooler autumn days, the linen trousers might be a little too thin.
The jeans
An absolute classic that will certainly not go out of fashion in decades to come. come will! This autumn, however, jeans with lovely details are certainly trendier than ever. Whether it's small holes, additional patterns or patches: if you want to stand out from the crowd here, you're sure to find the look that best suits your own type - with a little imagination.
Which trousers suit me best?
If you're in the mood for a new look, you'll be confronted with an incredible variety of trousers. But which model is actually the right one? The basic rule is that the wearer should naturally feel comfortable in his or her trousers. But here, too, individual requirements sometimes diverge considerably.
The following "rules" often make fashion decisions even easier.
If a dress code (for example "casual") has been set, it is only a sign of politeness to adapt accordingly.
If you opt for trousers with an eye-catching pattern, you should ideally combine them with a plain-coloured top. This creates a harmonious look.
Longitudinal stripes can make the legs look longer.
The "elegance factor" of a pair of trousers can be raised (or lowered) with the help of matching shoes.
The popular "flanking" has not yet gone out of fashion in autumn 2020. Simply turn your trousers up a little and show your ankles.
Especially in connection with trousers, the often quoted "love at first sight" is not uncommon. Here it can be worthwhile to take a look at the bigger picture and try out something that - at least apparently - "doesn't really fit". Often a positive fashion surprise awaits you... And, if not, it was worth a try.
You might also like this post: Conclusion on episode 5 of Prince Charming