Are you looking for hot sex adventures? Just take a look at romeo!
If you're sitting at home and spontaneously feel like having sex but don't have the right guy by your side, you don't necessarily have to despair. As is often the case, it is definitely an advantage to know WHERE to look. How about taking a look at the app romeo?
Most of the men who are out and about here simply have no desire for a relationship. Instead, they want to have fun: like to have a Gay Cruising location, sometimes with several men.
How convenient that the next guy is often just a click away. romeo has been on the market for many years and has managed to make gay dating even less complicated. If you don't want to sign up for a paid membership yet, you can also visit the site for free (see below).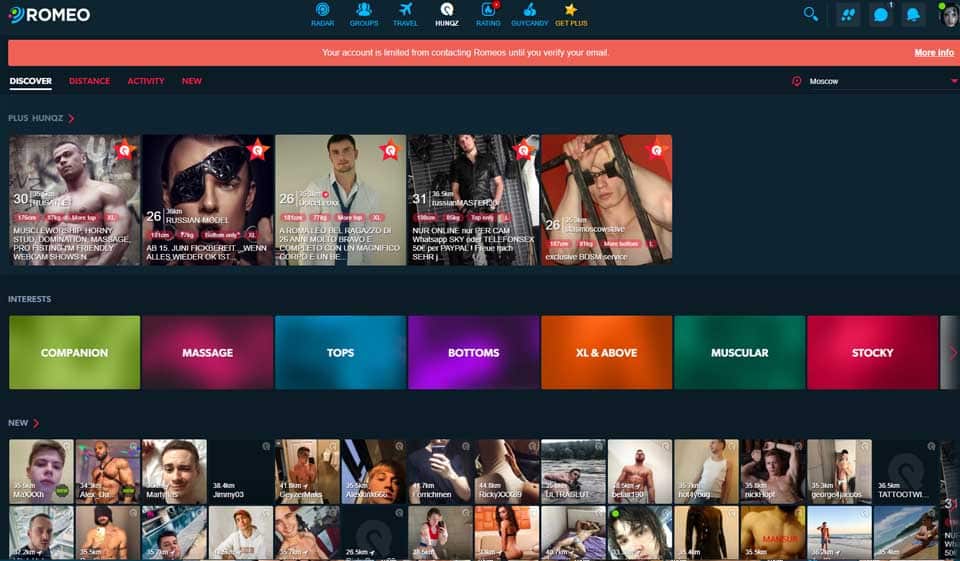 use romeo free of charge?
Even though gayro offers you the possibility to sign up for short, one-month memberships, you might want to enjoy a little more flexibility. No problem! You can also use the platform for free (With restrictions).
"With restrictions" means in this case that it is not possible, for example, to send unlimited messages in this case. Nevertheless, this variant is a great way to get to know the platform better - at least to some extent.
Who uses romeo?
Do you have precise ideas about what you would like to experience on a dating platform? If you now feel like creating your own individual "Chances of success", you should always also familiarise yourself with the respective "Target group". But what exactly does that mean for romeo? Which guys are out and about here? Who can you have fun with here?
The average romeo user has fun first and foremost:
Casual sex adventures
innocuous sex
visiting gay cruising venues
a relaxed basic atmosphere
lots of hot chats.
If you can identify with this, you will certainly feel comfortable there. It should be added, however, that the number of men looking for love on romeo is rather manageable.
So just in case you don't feel like having affairs, ONS and Co., it might be a good idea to put out some feelers elsewhere in parallel to your membership on romeo.
In connection with chats on the platform, you should attach great importance to filling out your profile. The operators have taken great pains to give you a lot of space for individual information. Use the space to show the other men what you want. This way you can increase your chances of finding the right partner (for whatever) often increase. Profile pictures also often say more than 1,000 words.
Your advantages on romeo - These details are particularly convincing
The list of benefits associated with registering on romeo is long. Which point is the most convincing depends, of course, on your individual attitude.
Do you especially like the large selection of types? Or on more "Extras", such as:
the relaxed, sexy basic atmosphere?
The Cam Sex?
The detailed profiles mentioned above?
The hot pictures?
The customer-friendly "fringe" dates, such as the various monthly memberships?
Whatever the reason you should choose romeo: Chatting on this platform could really shake up your sex life.
The romeo prices at a glance
You don't want to use romeo in a limited way, but to the full extent? In this case, you have to decide on a membership. How much you pay for this depends on the duration of the commitment.
One month of romeo costs 8.99 euros. For three months you pay a total of 20.97 euros and for a year just under 60 euros.
This means that if you decide to commit yourself for a longer period of time, you can even save money when you look at the monthly price. But which option is best for you depends on your dating behaviour, of course. Especially if you don't plan on dating in the coming months, "settled", it may be worthwhile to go for the annual option.
Regardless of which option you choose, you should always - before you start chatting and Flirt really gets going - filling out your profile. The more effort you put into this, the more guys will certainly take notice of you. Of course, there's nothing wrong with not only letting yourself be found, but also doing a little research yourself.Offered" to browse.
Have you ever tried Gayromeo Planetromeo tried?