Popular gay saunas in Hamburg, Berlin and Cologne - exciting details for sweaty leisure fun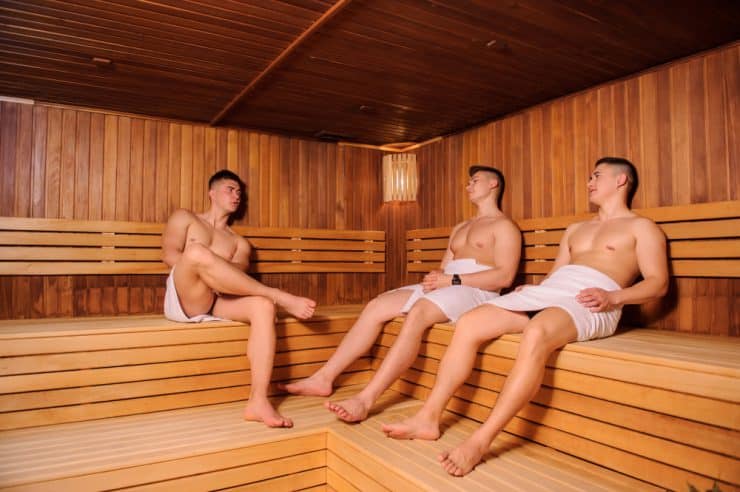 11 April 2020 17:32
No question: taking a sauna is healthy! So it's all the better that there are now many providers who make it easier for gays not only to sweat, but also to meet like-minded people and strike up a conversation. come.
But what is so special about a gay sauna and why do many gay men prefer to relax here? One thing is certain: the demand for these special offers is high! Especially in big cities, like for example in Hamburg, Berlin or Cologne many homosexual and bisexual men are in search of gay saunas and Group sex.
As with classic saunas, however, there are sometimes significant differences in quality. Depending on the facility, the focus can either "only" be on sweating or on socialising.
How do gay saunas differ from each other?
How exactly in a Gay sauna The type of sauna you can relax in depends, of course, on the provider. Particularly well-equipped providers have several rooms with saunas at different temperatures. Here you can often chill out not only in the steam bath but also in the dry sauna.
For many providers, separate sex rooms are also standard. After all, it is quite possible that interest in "more" has arisen after sweating together. In short: if you want to keep all your options open, you should look for an offer that is correspondingly versatile. After all, the joy of pleasure should not fail due to lack of space, should it?
Over the years, however, not only the offer has improved, but also the prevailing hygiene. Many facilities are cleaned several times a day, provide Condoms and also entice visitors with culinary delicacies. Often there are also overlaps with Swinger clubs. In short, it's a great place to stay - whether for just a few hours or the whole day.
Which gay saunas are particularly popular in Hamburg, Cologne and Berlin?
Due to the growing popularity, the number of gay saunas has expanded significantly in recent years, especially in the major cities of Hamburg, Cologne and Berlin.
If you are looking for a gay sauna in North Rhine-Westphalia, for example, you will quickly come across the Babylon Cologne bathhouse.
Here, wellness and pleasure are combined in an impressively luxurious way. On approximately 1,400 square metres, there are many ways to relax. Massages are just as much a part of the offer as luxurious pools and saunas with different temperatures. Especially practical: the facility is open all year round.
In the Hanseatic city, the Dragon Sauna attracts visitors with its numerous offers for sweating, enjoying and flirting.
The sauna has been delighting guests for almost 20 years and has been renovated again and again over the years. Today, a large Finnish sauna forms one of the centrepieces of the facility. But the rest of the wellness area is also characterised by a modern design and a pleasant atmosphere. Other highlights are the whirlpool and special extras, such as a steam sauna including a maze. Thanks to its largely central location, the Dragon Sauna can be easily reached by public transport as well as by car. (Tip: If you are looking for particularly individual programme items, you should find out in advance about the regular specials).
In Berlin Gays in search after a mix of wellness and sweating, among other things, get their money's worth in the Boiler. The facility can be easily reached via the Mehringdamm underground station and is characterised by a very special ambience. Those who want to can not only attend various courses here, but also enjoy the atmosphere that ensures that the Boiler lives up to its name. Thanks to the modern equipment and the wide range of offers, this sauna has developed into a trendy meeting place. Massages and culinary highlights round off the overall concept.
Doing a wellness weekend yourself?
Also exciting: This is why it pays to data a cat owner